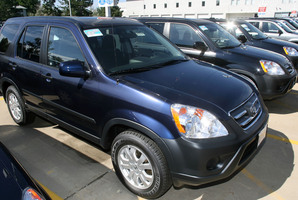 Honda CR-V vehicles sold in New Zealand are not thought to be affected by a potential fault that has led to thousands of the model being recalled in the United States, the carmaker said.
About 268,000 of the 2002 to 2006 model of the popular crossover SUV were recalled in the US after water was found to be able to enter the open driver's side window, which could cause a master power switch to melt and catch fire.
Honda New Zealand head of marketing Graeme Meyer said the recall did not affect CR-Vs sold in New Zealand.
"Should it turn out that it does affect us - which we probably suspect it doesn't because we haven't had any information on it - we'll just be in contact with all our customers in the usual manner."
That would also apply to Japanese used imports, he said.
- APNZ