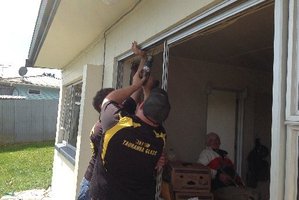 Authorities have impounded a fridge that mysteriously exploded so investigators can determine what caused the blast that blew the door off its hinges and smashed 10 windows.
A garbage bag full of food that was in the fridge has also been kept, after fire investigators failed to find a cause for the Tuesday night explosion at a Tauranga home.
Fire safety officer Ken McKeagg said explosives experts from Wellington would travel up to investigate the blast, which also destroyed a sliding door and cracked parts of the ceiling.
Residents of the Gate Pa home said there were no suspicious liquids in the fridge, Mr McKeagg said.
"They said it was just food [and] this is what's stunned us. Food doesn't just blow up or I'll be too scared to put carrots in my fridge," Mr McKeagg said.
There was no sign that a refrigerant had sparked the blast.
Mr McKeagg said the fridge, which was bought second hand, was at least 20-years-old.
Energy safety investigators from the Ministry of Business, Innovation and Employment will travel from Wellington to examine the ruptured fridge in the next fortnight, a ministry spokesman said.
"They'll be looking to see if there was a fault with the appliance or if someone had done something to it, which may have caused the explosion," he said.
The two men living in the house were woken by the 1.15am blast.
The men, Paul Collinson and John Smith, were unhurt.
"There was this explosion and it went boom," Mr Collinson told the Bay of Plenty Times.
"I was in my room and it blew out the windows and I felt the vibrations and a big whoosh as it came over my head.
"It hurt my ears and they're still ringing now.
"It looked like a bomb had exploded."
The men said they were clueless as to what had caused the blast.
- APNZ