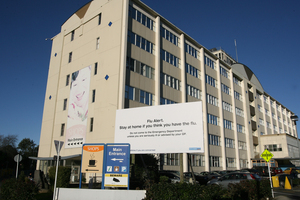 Middlemore Hospital has closed one ward and banned children from visiting as it battles to contain an outbreak of a vicious stomach bug.
Access to other wards has also been restricted.
One hundred and thirteen people - 56 patients and 57 staff - have contracted norovirus.
Norovirus is a common and highly contagious cause of gastroenteritis, and symptoms include nausea, vomiting, abdominal pain and diarrhoea.
At Tauranga Hospital, three wards have been affected by an outbreak of the virus.
"We are asking that anybody who is visiting patients at Middlemore Hospital be well and show no symptoms of illness and have been symptom-free for at least two days," said a hospital spokeswoman.
"No children will be allowed into wards unless it is on compassionate grounds, and Ward 5 has a requirement that visitors [put on] gowns and gloves before visiting affected patients."
Norovirus is often transmitted by eating uncooked shellfish, but it can also be transmitted through airborne particles and contaminated surfaces, such as door knobs.
Hospital visitors and people in the community are encouraged to wash their hands thoroughly to help stop the spread of infection.
There is no specific treatment against the virus, which usually stays in the body for between 12 hours and three days, though extra fluids and rest are recommended.
People with symptoms are urged to avoid contact with infants, the elderly or those with long-term illnesses.