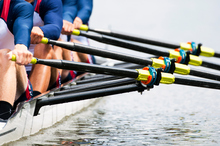 The Horowhenua Rowing Club treasurer fears there may be more attacks on the club, after vandals broke in and destroyed all but two of the club's boats.
Jo Mason discovered the damage to the Levin club on Saturday morning.
"A hole had been cut through the iron, and the shed was entered and 25 boats were pulled off their storage racks and had holes, made with some sort of hammer, broken through all of the hulls."
Costs could reach $100,000 and some of the boats might be beyond repair, she said.
"The estimates are $500 a hole and there are 75 holes - and that's $40,000 - and some of the boats will have to be replaced."
The club was insured, but it was not known if all costs would be covered.
The financially strapped club maintains their gear carefully to avoid costly repairs.
"To have this happen is just devastating," Ms Mason said.
The attack came after a long-running dispute with Maori activists over the ownership of Lake Horowhenua.
Ms Mason said the club had been targeted by threats from the group since 2007.
In the last year, aggression had grown, she said.
"That's probably because our club has grown in the last year and we've been using the lake more, and there's been a lot more activity."
While most of the club's rowers would probably not see much of the season, "our spirit's not broken", Ms Mason said.
Now that daylight saving is underway the young rowers should be starting to prepare three time a week for regattas.
"But now we don't have any boats to use."
Police were investigating the incident, which happened sometime between 8pm Friday and 8am on Saturday.
- APNZ
By Rebecca Quilliam

Email

Rebecca, Hana Garrett-Walker

Email

Hana