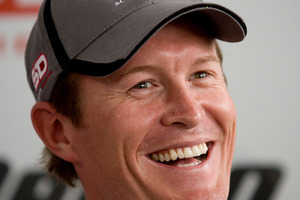 Motor-racing ace Scott Dixon has scared off an intruder trying to break into his Auckland house.
Dixon tweeted yesterday about his "crazy night" and joked his muscular arms frightened the invader away.
"We had an intruder trying to break in ... Thanks to the NZ police ... Luckily he saw my big guns and made a run for it," he said.
Dixon is in Auckland visiting family and doing some fundraising and promotional work for his favoured charity Canteen.
He is staying in Ponsonby where the unwelcome visitor called early yesterday morning.
His mother, Glenys said she slept right through the commotion.
"I woke up this morning and they were 'like did you hear the police?'," she said.
Police said they were investigating an incident at a Ponsonby residence at 4am yesterday where a door was "kicked and bashed" but the offender ran off when disturbed.
Dixon also revealed this week he may soon be starring in a reality television show with his wife and other motor-racing glamour couples.
The 31-year-old and his Welsh-born wife, Emma Davies-Dixon, a former British and Welsh 800m running champion, have been approached to star in a pilot show called IndyCar Couples.
Dixon, originally from Pukekohe, scooped his latest victory at the Belle Isle Grand Prix in Detroit in June.