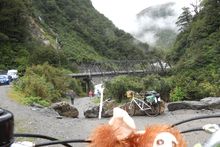 Haast Pass highway will be closed for at least one more night over fears that more rock could crash across to the road in the dark.
A section of State highway 6, about 45km north of Wanaka, was blocked by a large slip after heavy rainfall on September 5.
Traffic has been reduced to one lane during the day as road crews try to stabilise the hillside and clear the road. The highway has also been closed from 7pm to 7am every night.
The New Zealand Transport Agency had hoped to have the road clear by tonight, but this morning Central Otago area manager John Jarvis said the rocks were still falling.
"The slip hasn't settled down yet. It will take some time to settle down."
Road crews have built a ledge in the hillside to catch some of the falling debris, but it would not catch all of it.
"Quite a lot of rock will come down if we get heavy rainfall. We can't take that risk while it's not being manned, in the dark."
They will review the situation and release an update at lunchtime tomorrow on whether the road will be closed tomorrow night as well.
By Christine Linnell of the Greymouth Star