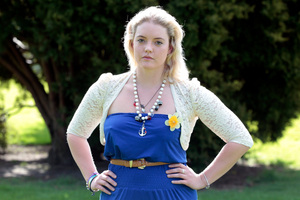 A clothing store which locked its doors during a fire evacuation, trapping a customer inside, says it is satisfied with the way the emergency was handled.
Rose French, 24, was stuck in the Cotton On store at Westfield St Lukes for 10 minutes after the huge Auckland shopping mall was evacuated when a fire broke out in the carpark.
She said she was in the changing room with music blaring and "in her own world". She walked out to locked doors, a deserted mall and the smell of smoke.
She said it was so frightening she had been on leave from her job since the incident on August 10.
Cotton On apologised to French. It said its procedures had been reviewed and it would not happened again.
But the store angered French when it told her it had thoroughly investigated the incident.
"We feel confident the Cotton On team member on duty adequately executed the necessary evacuation responsibilities," said the store's regional loss prevention manager Teresa Gibson.
"We sincerely apologise for any stress the situation may have caused you."
French said she wondered if Cotton On thought she had hidden from staff, which was not the case. She said the letter of apology was not enough and she wanted an apology in person as she had genuinely feared for her life.
"I'll get over it. But if this happens again on a larger scale, we could have a repeat of Doha," she said, referring to the May 28 inferno at the Villagio Mall in Qatar which killed 19, including 2-year-old New Zealand triplets.