Inquiry finds confused organisation with culture of risk-taking and rule-breaking.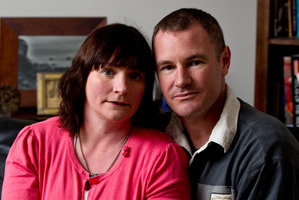 Rob Stockley sits solemn in his dining room as wife Liz wraps her arms around him. They brace against the memory of Anzac Day morning two years ago and Mr Stockley starts to speak of the fatal flight he approved.
The former Royal New Zealand Air Force squadron leader rose early for the Anzac Day service. Taking his place at the service, he set the ringtone on his phone to mute.
Normally, he would turn his phone off but today he was the authorising officer for a display flight by three helicopters over Wellington. "I had birds in the air," he remembers. The Last Post was about to be played when his phone began to vibrate with an incoming call. Moving away, Mr Stockley answered the call and heard a frantic voice: "We've lost Muddy. We think he's crashed."
It was the pilot of Black 1, who was leading the helicopter convoy. He was talking about Flight Lieutenant Hayden Madsen, the pilot of Black 2.
Madsen had flown into the hillside. He was dead, along with Flying Officer Dan Gregory and Corporal Ben Carson. They had flown low, into cloud in the dark. Three went in, only two came out. The events of the day blur into anguish and pain. He recounts the search ("put up all the balloons," he said "tell them they've crashed and hope they haven't") and the subsequent finding of the wreckage.
The report into the crash was released in December 2011. It lists a litany of failures in the air force and New Zealand Defence Force, finding the air force was a confused organisation with a tangled chain of command and standing orders which weren't followed. It was likely the problems existed across the entire air force, it found. There was a culture of risk-taking and rule-breaking with safety systems so broken there wasn't enough time to investigate basic failures because there were so many fatal incidents. Some recommendations are so basic they are staggering. It was suggested the defence force put locator beacons in its aircraft so they could be found in event of an accident. The crashed helicopter was found only after a desperate two kilometre uphill run through the bush. The air force was told it should upgrade systems to follow international best practice - something not currently in place.
It was said by some the three deaths showed the risks by our armed forces every day. The report showed they didn't need to die.
Ben Carson's mum and dad Pauline and Andrew have a very simple view of what it says. They believe the air force killed their son.
The warning signs
There were warning signs the fatal crash was coming. Ten months before the crash, an RNZAF report was produced focusing on dangerous practices at 3 Squadron. The report detailed unauthorised low-flying near-accidents, including from an Anzac Day display flight in 2008.
Then, in November 2009, Mr Stockley raised his own concerns about safety. He sent an email directly to the commanding officer of 3 Squadron, Wing Commander Russell Madron, raising issue with rule-breaking and risk-taking by air crew. It was copied to Mr Madron's second-in-command and a string of senior officers. In the email conversation which followed, he explicitly said he was concerned members of the unit would be killed if practices did not get changed.
He spoke of the squadron's proud history: "3 Squadron has a proud history of getting the job done, sometimes even where other operators can't or won't. It's a formidable legacy our forebears have left us. Unfortunately, stories grow in the telling. The considerations made by the crew at the time are lost and all that remains is a gnarly mission that we all wish we could have been part of."
He raised concerns about how standing air force orders were being ignored. He said he was worried about the casual treatment of rules about flying in bad weather and at heights below 250 feet.
In days gone by, he said, crews could be grounded for "for days at a time" waiting for weather to improve. The weather hasn't got better, he said, but pilots had started using "operational necessity" as a reason to break rules and press on. They had flexibility to break rules when lives were in the balance - but the option was being exercised to put lives at risk.
He urged his fellow officers to help rid the squadron of a casual approach to safety. "How long do we let this line of thinking develop before someone screws up and gets charged or worse, crashes? I'm worried the pendulum has swung too far. Can do, can kill."
Hunting for scapegoat
"I wish I had done more," says Mr Stockley. The regret is deep. He is speaking out because he is worried the air force is compounding systemic failures by hunting for a "scapegoat" among those who least deserve it.
His fear is the current investigation will follow the chain of command down to the crews of Black 1 and Black 3. In the 29 months since the crash, those men turned up every day to work in an air force investigating them for wrongdoings of which the entire chain of command should have been aware.
"I'm concerned they will be made scapegoats. I'm concerned they will be made responsible. I think they did the things they did because of the system in which they were a part. I think they thought at all times they were doing what command wanted."
It was inevitable someone was going to die because the air force kept trying to do all it was asked with fewer resources, he says. It could not keep beating the odds. "They were a part of the same broken system. A lack of resource and a lack of oversight allowed this unregulated system to perpetuate."
For Mr Stockley, the chance for immediate accountability passed quickly. "I'm gutted the chief [of air force] of the day didn't stand up and say 'it happened on my watch - it is my responsibility'." That commander, Air Vice Marshall Graham Lintott, left his role as air force chief a year after the crash to become New Zealand's defence attache in Washington.
Mr Stockley is the only person charged in relation to the Anzac Day crash and his concern over the air force's search for accountability is driven by the way he was treated. After leaving the air force, he was visited in August last year by former Ohakea base neighbour, provost marshall Russell Sowden.
At the time, the Court of Inquiry report was not published. But, in an email to Mrs Stockley that month, Mr Sowden directly refers to the report. He says it "does not go far enough" and his investigation meant he needed Mr Stockley's help to "change and improve the system". He said he wanted to make it "as painless ... as possible" and urged her to support her husband as "he has not had this from RNZAF".
A few weeks later, Mr Sowden returned to the Stockleys' doorstep to charge his former neighbour with an administrative technicality. He ordered him to appear in Ohakea in three days' time for a military court hearing and told him he was not allowed a lawyer. Mr Stockley was convicted. An appeal three months later found the charges should not have been laid. The judge ruled the air force had incorrectly applied its own standing orders in laying the charge.
Even though cleared, Air Vice Marshall Peter Stockwell cited the conviction in a television interview four months later as proof of accountability but didn't mentioned it had been overturned.
For Mr Stockley, it showed the air force's desperation in trying to find someone to blame. "Yes, someone was charged but the RNZAF got it wrong."
Lack of transparency
If the air force is safer, there is no way of telling. The exercise in faith is deeply disturbing to Andrew and Pauline Carson, whose son Ben was killed. It should not be allowed to investigate itself, they say.
NZDF has issued no updates on its progress until the Herald insisted on knowing what had been done. It has no external oversight.
The air force carried out the Court of Inquiry in the same vacuum. The inquiry report itself is harsh - it was done by former wing commander Logan Cudby, who was in the process of leaving the air force while it was done. As a measure of the defence force's openness, the report is not on any defence websites.
It was done with little external oversight. The Australian defence force - cited as being involved - felt driven to say its staff didn't actually get to see a final draft of the report.
Mr Carson said the crash happened in unremarkable, non-military circumstances which should not allow the air force to use its ability to stay shielded from civilian agencies. "I can accept the military is different if my son was in Afghanistan and was shot out of the sky."
The Carsons are an air force family. Mr Carson was born on an air force base - his dad was in the air force. "It hurts," he says.
He said accountability must go up the chain of command. "I don't blame the pilots who died. It's the guy who gave them the keys and told them to go there."
Safety moves and proposals
Changes made by NZDF
* A new command wing at Ohakea means operations now controlled locally rather than from Auckland.
* Orders for flying displays and practices reviewed and rewritten.
* A new body to oversee command structure, with a senior independent leader.
* No 3 Squadron's operating culture reviewed with a stronger focus on awareness, supervision and adherence to and procedures.
* Simulators used to make sure crew keep flying hours at a safe standard
Changes under way include
* A review of orders and procedures near completion. Orders be clearer and so will the requirements and limitations for aircraft operations.
* A new safety management system.
Recommendations not commented on by NZDF
* Plan in place if aircrew lose visibility.
* Ground-warning systems should be on all NZDF aircraft.
* NZDF crash response procedures need to be updated.
* GPS which starts on crash impact on all NZDF aircraft.
* GPS on all personal beacons.
* Voice and data recorders on all aircraft.
* An investigation into faulty personal locator beacons.
* Protection from prosecution to encourage open reporting.
* NZDF to investigate parallels with other accidents.
What happened on that day
0400: Crews of the three Iroquois helicopters arrive at the Ohakea air base to prepare for a flight to Wellington's Anzac Day parade.
0513: The three helicopters take off and fly west to the coast before turning south to Paraparaumu.
0540: The formation passes Paraparaumu on the way to Pukerua Bay. They keep below low cloud which sits between 76m and 106m.
0544: Nearing Paekakariki, the lead helicopter, Black 1, swings out to sea to prepare to turn back to Paraparaumu. They are about 50 metres apart, travelling at 60 knots.
0548: Black 1 begins to turn from 90m above the sea, about 500m offshore.
0549: The two lead aircraft lose visibility. Black 1 turns hard and lifts sharply, narrowly avoiding hitting the hills. They rise to 5000ft and head for Wellington airport. Black 2 hits the hill at 240m, killing three of its crew and critically injuring the fourth. Black 3 drops to 36m and accelerates to 120knots to avoid being hit by the others, heading to Paraparaumu airfield.