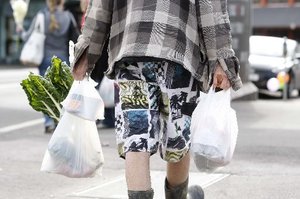 Stallholders at Whangarei's popular Growers Market could get a visit from the taxman as the Inland Revenue Department looks to crack down on cash businesses to ensure they pay their taxes.
Growers Market manager Robert Bradley said IRD recently sent a letter asking him to supply details of a stallholder at the market, which he had done. As a result he has told stallholders - the market has about 150 on its books, although not all sell produce year round - to keep their books up to date and in order.
There was no reason to suspect any of the stallholders weren't meeting their obligations - which included keeping a cash takings book, recording the "float" and the amount of cash taken each day - but Mr Bradley said it was important they were reminded.
"We won't stand for tax evasion at the market. It is a serious market, with a lot of people making their living from it and we don't want a few idiots spoiling it for everybody," he said. "We don't want people rorting the system.
We're saying, 'Here are your obligations and if you do try to play games with the IRD and get caught don't blame us'."
There were good reasons why the market largely operated with cash, as many transactions made were small - often between $1.50 and $5.
"At the peak of the market a stallholder can have a transaction taking place every 15 to 20 seconds and you just don't have the time to do all those electronically, (through eftpos) you just can't get through them that quickly."
Mr Bradley said IRD had visited the market in recent years and would likely do so again.
"Stallholders should be in no doubt that the department intends to check out cash businesses, including markets," he said.
"As Whangarei Growers Market is now well known for its popularity, it is highly likely that IRD representatives, probably armed with a video camera, will pay the market a visit at some stage."
An IRD spokesman said the department monitored a wide range of activities in the course of compliance work, including liaising with market organisers throughout the country to identify stallholders who were self-employed, hobbyists, or those linked to an established business to assess the risks of non-compliance.
"Site checks may also be carried out. Hidden economy principally arises from activity which takes advantage of opportunities offered by cash transactions and involves the under-reporting or non-reporting of taxable income," the spokesman said.
"Generally, this is sourced from cash income or cash surrogates (for example, through barter activities) by businesses or individual customers. Our focus is also to increase the understanding of compliance issues for these specific groups, improve voluntary compliance, and provide assistance and education to stallholders on PAYE and GST filing and the use of online services and filing options."
For more articles from this region, go to Northern Advocate