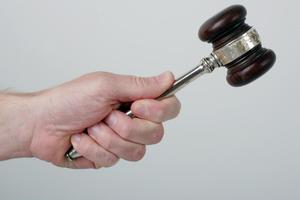 File Photo / NZ Herald
A woman who was filmed showering by her partner's friend can be awarded damages, a judge has ruled in a New Zealand legal first.
Greg Holland was fined $1000 in January last year in Christchurch District Court after he pleaded guilty to crawling into the roof space of his house to film the 25-year-old woman, whose name is suppressed, while in the shower.
He was charged with making an intimate video recording and was ordered to pay $1000 in reparation for emotional harm before being convicted and discharged.
Holland owned the house with the woman's partner, who also lived there.
But in a High Court ruling released yesterday Justice Christian Whata ruled that the woman's privacy was invaded and damages should be considered.
Justice Whata had to determine whether invasion of privacy, without publicity or the prospect of publicity, should form New Zealand law.
It was agreed by both the defence and plaintiff that there was no evidence that Holland published or showed the video clips to anyone.
There was no existing legal authority in New Zealand for which Justice Whata could use as reference in this case.
Drawing on reference from North American law and existing New Zealand law in other jurisdictions Justice Whata ruled that "an action for intrusion upon seclusion" was recognised as part of New Zealand law.
He ruled that Holland intruded into the woman's intimate space and the intrusion infringed a reasonable expectation of privacy.
"He is therefore liable for that intrusion."
A hearing on damages now had to be heard.
The woman's lawyer, Steven Rollo, said a new date had not been set.
"It's a good outcome for the plaintiff in the sense that it indicates her right, it's also a good decision for the ongoing development of privacy law in New Zealand."
He would not comment on what costs he was seeking.
- APNZ