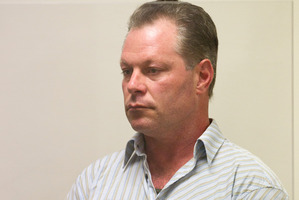 A slaughterman whose bullet ricocheted off the skull of a steer and nearly killed his assistant has pleaded guilty to careless use of a firearm.
But he will seek a discharge without conviction so he can realise his dream of shooting for New Zealand at future Commonwealth and Olympic Games.
During a home kill near Helensville in March, experienced slaughterman Bruce Stanley Scott fired a bullet which ripped through the upper body of his assistant, Simon Alex, 18, whose heart stopped twice.
The teenager was revived and eventually made a full recovery. Police later laid a criminal charge against Scott, who pleaded guilty when he appeared in the Waitakere District Court yesterday.
Judge Heemi Taumaunu heard that Scott did not check exactly where his assistant was before taking the shot.
It is disputed where Scott had told Mr Alex to go, and where he actually went. That issue will be dealt with at a disputed facts hearing in November.
Scott's lawyer told the court his client accepted he had been careless. But had he known what was about to happen he never would have pulled the trigger.
Judge Taumaunu said the law required a person in Scott's position to know and check where their assistant was before firing in circumstances where there was a risk they could be hit by a bullet.
"Mr Scott fired in [Mr Alex's] general direction - and that's it in a nutshell. He did not clearly identify where the victim was when he took the shot."
Scott saw the shooting as an accident and it had led to a very upsetting and difficult time for him, his employees and his family.
His lawyer said that once the facts of the matter had been settled, she would proceed with an application to have Scott discharged without conviction.
She said he was a shooter who represented New Zealand at international events and dreamed of competing at Commonwealth and Olympic level.
A conviction would destroy his ability to travel to some countries and limit where he could compete.
Police said Scott "definitely did not identify his victim when he used the weapon" which was "a problem that goes to the heart of many of these accidental shooting cases".
They were opposing the application for a discharge without conviction. However, they had not revoked his firearms licence yet, to allow him to continue working.
Judge Taumaunu said that once the disputed facts hearing had been held, the matter could proceed and he would consider whether to convict or discharge Scott.
"The case is going to be decided on fully agreed facts that Mr Scott did not clarify where the victim was before he took the shot."
Scott and his wife, Amber, own and run Scott's Traditional Meats and Kaipara Meat Processors in Helensville.
It is understood Mr Alex returned to work for the Scotts in May.