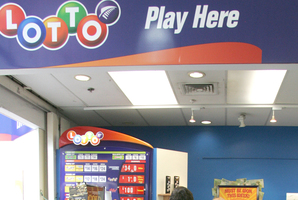 Lotto is celebrating its 25th birthday. Photo / Bevan Conley
A woman who walked into a shop to cash in her $5 scratchie ticket came out $1 million richer.
Christchurch woman Joan, who didn't gave her last name, said she was out walking with her husband yesterday when she called in to a Lotto store to collect $5 she won on an Instant Kiwi ticket.
"When I went to claim it, I checked our Lotto tickets at the same time. I was absolutely amazed when the Lotto lady said I'd won $1 million," she said.
She said she had no immediate plans for how she might spend the money.
Joan is the first millionaire to claim her prize from Lotto's 25th birthday promotion at the weekend.
Another million-dollar winning ticket was sold at Hornby Mall Lotto in Christchurch and a third was sold at Inkworks in Mt Albert, Auckland. Those winners have yet to claim their prizes.
- APNZ