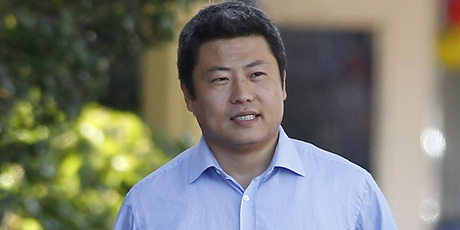 Runaway millionaire Leo Gao went to his jail bed last night refusing to say what happened to almost $4 million.
More than three years after disappearing with his girlfriend at the time, Kara Hurring, after a banking blooper put $10 million into his account, Gao has spoken out and admitted temptation proved too much as he struggled financially.
In an hour-long interview with APNZ the day before he was sentenced, Gao revealed:
* How he will miss his 19-month-old son growing up.
* His regret at dragging Hurring into the crime.
* Why the money was the worst thing that ever happened to him.
But the 32-year-old steadfastly refused to say what has happened to $3.8 million that has never been recovered. "All I can say is I'm not in a position to pay the reparations."
If that money were to sit in a term account at 3 per cent for Gao's entire term of four years and seven months, it would earn an extra $540,000 by the time he is released in early 2017.
Sentencing Gao in Rotorua District Court yesterday, Judge Phillip Cooper drew attention to the missing money. "I note that $3.8 million is still outstanding, and there is no explanation for that."
A police spokesman later told the Herald: "I can only say that if further information comes to light about the outstanding money, then that would be investigated."
Westpac Bank, which mistakenly put the money into Gao's account, declined to comment.
The sentencing brings to an end a saga that began in April 2009 when Gao applied for a $100,000 overdraft for his struggling BP petrol station in Rotorua, but Westpac gave him $10 million.
He then transferred $6.78 million to personal accounts in his name and those of his parents.
Gao also transferred more than $347,000 to casino accounts in the Asian gambling capital of Macau, then he fled New Zealand.
Hurring followed days later and opened a casino "player's account" there with her passport.
The couple's disappearance sparked a manhunt involving Interpol and other overseas agencies.
Yesterday, Hurring was sentenced to nine months of home detention. Judge Cooper said her role had been "significantly less" than Gao's and she needed to look after her two children.
He ordered her to pay reparations of $75 a week for the $11,800 that she had spent in New Zealand before fleeing overseas.
Figures released to the Weekend Herald show the pair have cost taxpayers tens of thousands of dollars.
Hurring's legal aid bill is $13,345 and climbing. Gao did not apply for legal aid.
Police spent more than $15,000 on overseas expenses including travel and accommodation chasing the pair. The daily costs of running the investigation are extra.
Rotorua area commander Inspector Bruce Horne said the sentencing brought to a conclusion "a long and complex investigation characterised by some unique challenges".
"The outcome ... sends a clear message to anyone contemplating fleeing NZ after committing a serious crime that NZ police will not give up."
By Edward Gay @edwardgay

Email

Edward, Jamie Morton @Jamienzherald

Email

Jamie