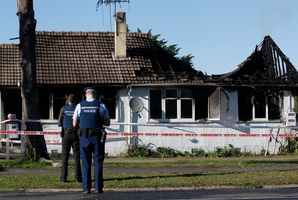 The body of a woman who was killed in a suspicious Hamilton house fire has been removed from the property, about 36 hours after the house was partially destroyed.
Eight people managed to escape the flames about 3am yesterday, and a homicide investigation is underway.
Two young children, one in a serious condition, are being treated at Waikato Hospital.
Detective Senior Sergeant Nigel Keall said the body of the woman had remained in the house while hot spots were being dampened down.
Her body was removed from the property about 3pm today and a post-mortem examination would be completed tomorrow.
A scene examination of the Holland Road property would continue for several days.
"The forensic evidence gathered during the post mortem will assist in determining the direction of the investigation. We anticipate that we should be able to complete the formal identification process following the post-mortem."
Mr Keall earlier today said a rescuer who snatched a trapped baby and a four-year-old child from the fire prevented a "much greater tragedy".
The man pulled the pre-schooler out through a lounge window before going back into the house and rescuing the one-year-old, Mr Keall said.
"Had it not been for this person's actions we would be investigating a far greater tragedy."
About 30 police staff were working on the inquiry into the woman's death.
A 20-year-old man and a 15-year-old girl were discharged from hospital yesterday.
Neighbours said yesterday they heard a car screeching off from the house after the fire took over.