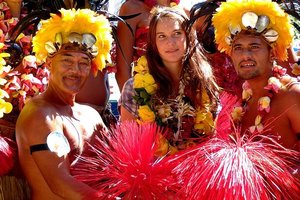 After nearly 15 years away, Kiwi-born teenage round-the-world sailor Laura Dekker is on the final leg of her journey home.
Dekker was yesterday sailing through the Cook Islands and expects to arrive in Whangarei around September 6, two weeks ahead of her 17th birthday.
Born in waters off Whangarei and raised in the Netherlands, she became the youngest person to sail solo around the world when she arrived in St Maarten in the Caribbean in January.
Now she has decided to turn her back on the Netherlands and settle in the land of her birth.
"I've been looking forward to going back ever since I can remember," Dekker told the Herald on Sunday this week.
"I'd like to find a job, finish my school, surf and get back into dinghy and ocean racing."
She said she had watched the All Blacks - but never tried a mince pie.
And, told of New Zealand's Olympic sailing success, Dekker said it would be a "dream" to represent New Zealand at the Olympics in sailing. "I couldn't wish for more."
- Herald on Sunday