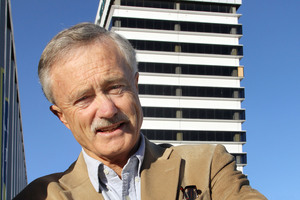 It will take just 7.7 seconds to blow up $26,000 after someone tonight won an auction to blow up the Radio Network House building in Christchurch.
The opportunity to push the button to demolish the 14-storey quake-damaged building became the third most-viewed auction in online auction site Trade Me's history and bidding reached $30,000 last week.
But this morning the leading bid was back down to $26,000 after four bids were removed.
And it was that $26,000 bid, placed six days ago, that continued to lead the bid when it closed at 6pm tonight.
The winner would be given the honour of pressing the button on the controlled demolition on Sunday.
It will be destroyed in 7.7 seconds by 60kg of explosives and will be the first of its kind in the city since authorities began the task of bringing down hundreds of quake-damaged buildings.
It was not yet known who won the auction.
The auction had been viewed more than 400,000 times.
The most viewed auction in Trade Me's history was the sale of a handbag and cellphone that Tana Umaga used to reduce his Hurricanes' teammate Chris Masoe to tears, attracting more than a million views.
Umaga swung the handbag, with cellphone inside, to hit Masoe twice in the head at a Christchurch bar after the Super 14 final in 2006.
Proceeds from the auction to launch the Radio Network House implosion will go to restoring the Isaac Theatre Royal and other heritage Canterbury buildings.
The final bid price of $26,000 will be doubled, with the Government pledging to match fundraising dollar-for-dollar up to $10 million.
- APNZ