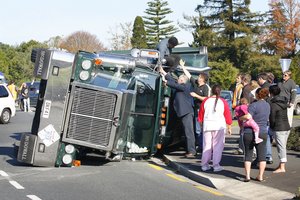 Hamilton drivers who flout road rules at intersections face instant fines and demerit points as police move to fight the rising cost of city car crashes.
Last Thursday alone, 16 calls were made to the police 111 emergency number to report crashes in the city, and an accident priority map detailing the 40 worst intersections shows a social cost climbing into the tens of millions of dollars.
The social costs are calculated on the attendance of ambulance, police, and fire to the scene together with the cost of hospital and ACC treatment for victims.
From next month, the Hamilton police strategic traffic unit will monitor the 40 high-risk intersections in a joint effort with the Hamilton City Council to reduce the number of crashes.
Acting Sergeant Steven Jones, the unit manager, said police would target drivers who run amber or red lights and those who blocked intersections at peak times.
The aim is prevention through increased presence and a higher visibility, Mr Jones said.
Peak crash times were between 3pm and 6pm, he said, when school and rush hour traffic flooded the city.
The worst intersection, with 14 injury accidents between 2007 and last year, was Victoria and Bridge streets almost directly outside the Hamilton central police station.
The intersection had the highest social cost at $604,760 according to the accident priority map compiled by Hamilton City Council last year.
Two intersections on State Highway 1 ranked in the top five, and the intersection with the highest number of crashes over the period was Peachgrove Rd and Te Aroha St, with 17 injury accidents.
Mr Jones said intersections were ranked among the police's "fatal five" risk factors, which also included speed, alcohol, fatigue and restraints.
Drivers faced an instant $150 fine for offences, and disregarding a stop sign would incur demerit points.
Hamilton City Council city transport network engineer Shaun Peterson said the council had used information from a Transport Agency crash analysis system to compile the map.
Mr Peterson said that from there, the council had produced a list of seven priority intersections at which red-light runners had caused injury accidents.
He would not name the intersections, but said they were among the 40 listed on the accident priority map.
He said the national Transport Agency database had been built up over 15 years as police recorded every accident they attended, feeding in information and pictures which now enabled the council to search any combination of road accidents involving vehicles and pedestrians.
"It can give you really detailed information on road crashes."