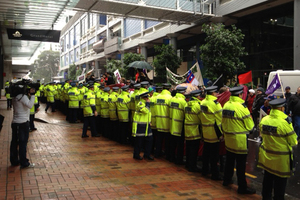 Anti-government protesters picketing the National Party annual conference today have failed to impress the Prime Minister.
On a wet Auckland day protesters turned up to picket John Key's speech to party faithful at the SkyCity Convention Centre.
Police outnumbered around 80 students and Poverty Action Group protestors angry at welfare reforms.
But Mr Key described their attendance as a bit light.
And he said his concern were more about the economy.
"We think New Zealanders put us here for a reason, to grow the economy, provide jobs, and make the economy more robust and stronger, get out of debt and back into surplus. We are much more focused on that than a few protestors down in Federal Street.''
Poverty Action Group spokeswoman Sue Bradford said the wet weather had not stopped them turning up at the SkyCity Convention Centre to show their displeasure at the government's welfare cuts.
"We're really pleased with the turnout, especially on such a wet and windy morning and I think it just shows how many people actually care about these issues, and want to let National know that we're not sitting down and letting this be done to us.''
The protest got rowdy on occasion but so far there have been no arrests.