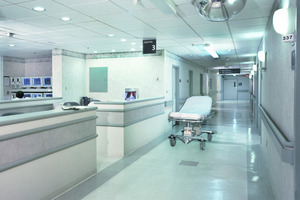 Thieves pretending to be visitors at Waikato Hospital are stealing from patients and nurses, taking thousands of dollars of personal items including money, jewellery, phones, laptops and iPads.
The thieves known as "stairdancers" walk into wards and rifle through patients' drawers and staff lockers. They sneak out with easily concealed valuables before anyone notices, according to Waikato District Health Board security manager Dean Ria.
"Usually it's opportunistic, it's spontaneous and it's all over in a matter of sometimes seconds."
In June, four wallets and two mobile phones were taken from Waikato Hospital where seven security guards patrol 47 wards and the emergency department, 24 hours a day.
A $1 million security technology budget resulted in several wards and the main carpark building being fitted with closed-circuit television cameras to help combat crime.
Mr Ria said that just days after a ward was fitted out late last year one thief was caught on camera as he cased the area.
"He was only on the ward for a matter of four minutes. In that time he located a room where the patient was out, searched the bedside drawers, found and stole a wallet."
The nurses on the ward thought the young man was visiting a family member.
Mr Ria said that if offenders were confronted they often claimed to be looking for a friend or family member and walked off. Staff and patients were being warned to lock away wallets, handbags and phones or not bring them to the hospital, he said.
Nurses had been cautioned to lock offices when they were empty and patients who insisted on bringing valuables to hospital were encouraged to take them when leaving the room.
"Perhaps in days gone past, hospitals, like schools, were places seen as caring environments and less likely to be the victims or locations of crime.
"In today's world that's just a little bit naive. It's a sad indictment of where society is today."
The DHB's other hospitals in Taumarunui, Tokoroa, Te Kuiti, Thames, Te Awamutu and Morrinsville have also been targeted.
Waikato Hospital is the biggest medical campus in the Southern Hemisphere, with 3800 staff on site every day.
Mr Ria said it was also one of the country's largest construction sites with up to 10,000 people - including contractors and visitors - frequenting the place daily.
"Just the sheer scale allows the criminal element to blend in easily."