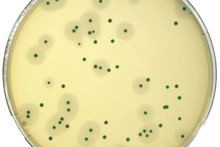 One person has died of listeria in Bay of Plenty this month but health authorities have ruled out a link to two deaths in Hawkes Bay.
Two elderly Hawkes Bay women died after the food-transmitted illness was found in meat supplied to Hawke's Bay Hospital. Two other people recovered from the notifiable disease.
The Hawkes Bay company linked to the tainted meat, Bay Cuisine, has voluntarily recalled ready-to-eat products including salami and pepperoni rolls, whole cooked hams and boneless ham pieces.
Bay of Plenty medical officer of health Phil Shoemack today confirmed its public health unit had dealt with two cases of listeria this month. Both were contracted in the community.
"They were admitted to hospital for treatment of a significant illness,'' he told APNZ.
Dr Shoemack did not have details of the patient who died, but said they had been elderly.
The second patient, a woman with an underlying medical condition, had recovered fully and been discharged.
"Those most susceptible to get listeria infection are older, significantly older, or have an underlying medical condition for which they are often being treated, and the treatment can affect their immune system.''
Dr Shoemack agreed it was uncommon to see two listeria cases so close together.
"From our investigations there's no link between the two, and also no link between our cases and the Hawkes Bay cases. We get a few cases every year, there's only so many days in a year, so occasionally there will be two reported close together in time.''
Dr Shoemack said extensive follow-ups were carried out with all listeria cases.
That involved talking with the individual or their family to see what food they had eaten in the past two weeks.
"In some cases we do our best to sample some of the food and have it tested,'' Dr Shoemack said.
"With these two cases we've been unable to determine any obvious cause of the infection.''
Hawkes Bay District Health Board (DHB) chief executive Kevin Snee described its cases as "a very unusual situation''.
"The last thing we want for is a very rare and unusual event to be creating alarm. There is no need for it.''
Hawkes Bay DHB population health director Caroline McElnay said test results received on Monday showed there were three different "strands'' of the disease in the four patients, and the women who died had different strands.
"For us to get four cases over a period of two months is really, really unusual,'' she said.
There were only 25 cases of the disease in New Zealand each year.
Ministry for Primary Industries (MPI) compliance and response deputy director Andrew Coleman today said the ministry had helped Bay Cuisine with the voluntary recall of a number of meat products.
"MPI wants to ensure any unsafe food is not available for sale and that people do not eat any of the recalled products they may have bought already,'' he said.
The products should be returned to where they were bought or disposed of.
The ministry was investigating the listeria cases in Hawkes Bay, and said anybody concerned about their health should seek medical advice.
The recalled products included Mad Butcher-branded 500g salami and pepperoni rolls. Details of all the recalled products could be found on the Government's Foodsmart website.
The Mad Butcher chain today said the recall of some Bay Cuisine products supplied to its outlets was voluntary and precautionary, and no contamination has been found in any Mad Butcher product range.
It said Bay Cuisine provided "a small amount of cooked products'' to the Mad Butcher chain and had alerted retail outlets to the possible listeria outbreak.
"We take any notice of potential contamination from a supplier seriously and immediately withdrew their total cooked product range,'' managing director Michael Morton said.
"None of the products has shown contamination, however, and there should be no cause for concern among our customers.''
- Additional reporting: Hawkes Bay Today
By Hana Garrett-Walker

Email

Hana, Matthew Backhouse @Mbackhouse

Email

Matthew