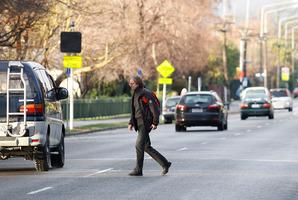 The fate of Canterbury University's largest student ball remains unclear after the floor at a temporary events centre gave way during a weekend concert.
Structural engineers today launched an investigation into what caused part of the floor at the new centre to buckle during a hip-hop concert on Friday night.
About 900 people were evacuated from the building without injury, although some were left shaken by the unexpected collapse.
The lightweight, timber-framed structure opened in April as a temporary replacement for the student bar, which was damaged in last year's earthquake.
The venue will remain closed while engineers continue their investigation.
Canterbury University Students' Association president Erin Jackson said it was fortunate no one was injured.
Students were "in disbelief" when the floor failed, she said.
"The lights came on and everyone sort of went, 'Oh my goodness, did that actually just happen?"'
Ms Jackson said the venue was evacuated within seven minutes of the floor failing.
"Students were amazing in co-operating and calmly leaving the venue."
Ms Jackson said some people did get "a bit of a fright" and the association had made arrangements if anybody needed to talk about what happened.
Other venues would have to be found student club events booked in at the venue this week, she said.
The Engineering Society's annual ball, which is less than two weeks away on July 28, is among the bigger events that may have to be shifted.
"We're working really closely with them about how we manage that and what we do from there," Ms Jackson said.
The Engineering Society is the biggest club on campus and its annual ball is a big draw card for hundreds of students.
The club said it was "working hard to hammer out any issues" and tickets would hopefully go on sale this week.
A Facebook page for the Las Vegas-themed ball said it would feature a cashless casino, an open bar and a live performance by Christchurch rockers The Feelers. More than 500 people had indicated they would be attending.
Canterbury University acting director of communications and external relations John MacDonald said the university was "very thankful that no one was injured".
"The safety of our students is paramount, and we will need some time to determine what has happened and what we are going to do about it."
About 900 people were either inside the building or on the deck outside at the time of the incident.
"The building has capacity for up to 1400 people, so it would appear that overcrowding was not an issue. We are very keen to find out what has happened," Mr MacDonald said.
- APNZ