Do you have any photos or video of the wild weather?
Email us.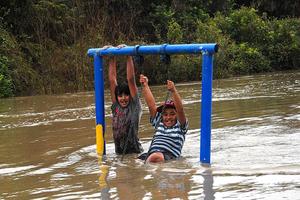 Wanganui is bracing for possible flooding overnight as authorities warn the rising Whanganui River could peak at its highest level in more than a decade, but the heavy rain hitting the North Island has already seen the country's main highway closed.
The heavy rain has also caused flooding and slips on some roads in the Ruapehu and Taranaki districts as the wild weather that lashed the South Island yesterday moves up the country.
Police announced at about 7.40pm that SH1 between Taupo and Turangi is closed because of flooding.
The heavy rain yesterday forced some Nelson homeowners to sandbag their properties, and cut off access to Westport for most of the day.
The rain is now easing in the South Island as a front moves up the country, with a severe weather warning in place for the lower half of the North Island.
Horizons Regional Council emergency manager Shane Bayley said most rivers in the region were coping with the heavy rainfall, where about 50-70mm of rain was expected to fall in the north of the region.
But the Whanganui River was expected to rise significantly overnight, peaking at 12.5m at Pipiriki about midnight and in urban areas about 10am tomorrow.
The predicted river levels would be the highest since October 1998.
Mr Bayley said a flood action plan had been activated and the council would be keeping a close eye on river levels throughout the day.
Wanganui District Council said the predicted river levels had the potential to threaten the Kowhai Park stopbanks and a number of homes on Anzac Parade in the city.
The council was in contact with supporting agencies to implement a river evacuation plan if needed.
Police central communications spokesman Sergeant Andy Dow said the rain in the central regions had eased early this afternoon.
Some roads in and around Ohura township in the Ruapehu district were flooded this morning, with a slip closing part of Waitaanga Rd and flooding closing parts of Ohura Road.
Police closed State Highway 3 in North Taranaki this afternoon after a slip 200m north of Awakino, about 90km north of New Plymouth.
The slip had blocked both lanes, making the road impassable. Roading contractors were on their way to the slip.
Mr Dow urged motorists to take care on the roads.
Police and fire services said they had not received any major weather-related callouts this morning.
The Metservice said the heavy rain would last into the afternoon over the central North Island hill country. It was not expected to ease in the eastern Bay of Plenty ranges until tonight, with up to 120mm of rain possible.
- APNZ