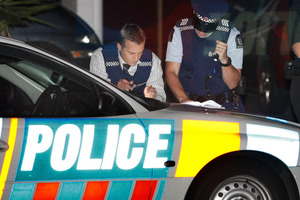 Police response times to 111 calls in urban areas have been getting faster over the past three years, and officers now reach more than half of priority-one incidents within 10 minutes.
But while the national figures show a quickening trend, response times were slower in some urban areas.
Figures released to the Herald under the Official Information Act show that last year, police responded to 61 per cent of 111 calls within 10 minutes.
Nationally, the response time for 90 per cent of priority-one incidents in urban areas was within 26m 51s - down from 27m 12s in 2010 and 28m 34s in 2009 and 2008.
Police are pleased with the national trend - even though it has not been happening in some places.
In Auckland City, the response time for urban areas was within 31m 17s. In Waitemata, which covers the North Shore and West Auckland, it was within 31m 24s and in Canterbury within 28m 6s.
Priority-one (or P1) events are deemed "urgent" and require an immediate police response.
An event is coded P1 when there is a threat to life or property and is still happening, when violence is being used or threatened, when a serious offence is being committed and the offender is present or leaving the scene, or when there is a serious vehicle crash.
The top five events likely to be coded as P1 are family violence incidents, traffic crashes or incidents, people acting suspiciously in cars or on foot, and disorder.
In rural areas, police responded to 84 per cent of P1 incidents within 30 minutes, and 90 per cent of 111 calls were responded to within 39m 44s.
A police national headquarters official said events were coded when the call was received at the communications centre.
"The call-taker determines whether the event is a P1, based on the criteria. The call-taker inputs information from the caller into a computer system which is then dispatched to the relevant frontline police unit."
Once police arrived at the scene, they responded regardless of what priority the event was, the official said.
Police planning and performance national manager Mike Webb said P1 calls "are about actual offences - robberies, assaults, homicides etc - but also incidents where an emergency response is needed but no offence has been committed, such as earthquakes, flooding and other weather-related events and some crashes or other incidents on motorways or highways".
There were several reasons police response times varied between urban areas, and were slower than the national response time in some places, Mr Webb said.
"These include the influence of an increasing population - more people create more calls for service."
Other factors were the distance to the event and traffic congestion.
Mr Webb said 111 calls were not included in the official crime statistics until police attended the scene and determined whether an offence had occurred and, if so, what type of offence it was.
Last year, New Zealand's three police communications centres received 1.7 million phone calls, which included 700,000 emergency calls.
"Not all calls for service result in a criminal offence being recorded," the police national headquarters official said.
"New Zealanders are also far more likely to contact police for a range of reasons, from a simple request for service to the reporting of a criminal offence."
It was hoped that by implementing the new Prevention First strategy, the number of P1 events, 111 calls and actual crime would be reduced.
Police say Prevention First is a national approach to promoting crime and crash prevention as the main way to reduce offending and victimisation.
"Our aim is to ensure we have frontline staff deployed to the right place at the right time, doing the right thing," the police official said.
"We are using an intelligence-led policing model to achieve this.
"We are working on identifying our high-priority locations throughout New Zealand to ensure we have frontline staff highly visible in these areas, preventing crime before it occurs.
"Over time, it is expected that this will reduce the volume of P1 events and also contribute to achieving a reduction of 13 per cent in total recorded crime by 2014-2015."
In 2005, police came under fire after it was revealed their response times in urban areas were two minutes slower than their 10-minute target.
A review of how they handled 111 calls was ordered after criticism over their response when Auckland University student Iraena Asher phoned for help in Piha in October 2004.
They sent her a taxi, but it went to Paihia Rd, Onehunga, not Piha. She disappeared.