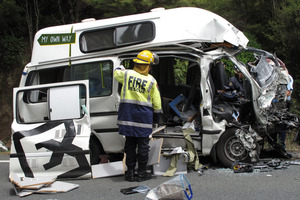 Spanish tourists Joan Roma-Serra and Eva Fajula-Rovira didn't stand a chance when a truck jack-knifed and collided with their campervan in Northland in 2009.
Whangarei coroner Brandt Shortland found that driver error was the main cause of the fatal crash on State Highway 1, north of Towai, which occurred as the couple made their way to the Bay of Islands from Auckland.
A 2-1/2-year-old boy was also injured in the accident, and requires ongoing treatment for his injuries.
In his findings, released today, Coroner Shortland said an 84-tonne Mercedes Benz truck and trailer driven by Ioane Etuale lost control as it travelled over a bumpy section of road. It jack-knifed and slid towards the oncoming campervan.
"The left-hand side of the northbound lane was all bank. Therefore the campervan had nowhere else to go. It could not avoid being hit by the truck.''
The campervan was lifted up and shunted back into a ditch, sustaining extensive damage.
Mr Roma-Serra and Ms Fajula-Rovira, both 34, died at the scene.
A ute which had been following their vehicle tried to take evasive action but could not avoid the collision and had its canopy ripped off.
The baby in a child's chair in the the back was badly hurt.
Etuale gave evidence that the truck's steering wheel had suddenly started shaking and he heard something snap before it lost control.
However, Coroner Shortland found there was nothing to back this up and no mechanical faults with the truck or trailer had been identified which could have contributed to the crash.
Although it was a difficult stretch of road for truck drivers, if common sense had been applied there was no reason why it could not be dealt with by truck drivers appropriately.
The road surface has since been repaired.
"These were unnecessary deaths. They could not have avoided this unfolding situation as their options to take evasive action were zero.''
The baby and his mother who were in the other car were "extremely lucky'' to still be alive.
Etuale was charged by police and found guilty of careless use of a vehicle.
For more articles from this region, go to Northern Advocate