Environmentalists believe council planners dropped their rulebook to help a Russian billionaire enjoy his stunning Northland hideaway. But if Alexander Abramov keeps his promises, Helena Bay Farm may yet prove the sceptics wrong.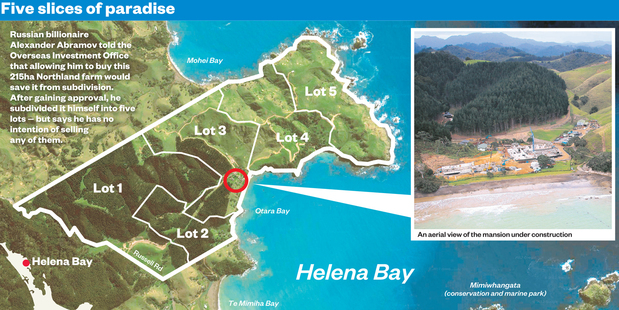 Helena Bay is, from any viewpoint, a special place. What lifts it beyond your average piece of "unspoilt" coastline is the view across the bay to Mimiwhangata, a peninsula of steep pasture, jagged edges and rocky outcrops. It was spared from development into a Gold Coast-style resort in the 1980s when owners NZ Breweries cut a deal with the Government and it is now a conservation and marine park.
Holiday homes in the bay are mostly confined to Ngawai (Teal) Bay, in the southwest corner. The northern headland is largely development-free; a mix of bush and grass farmed for 100 years. When Alexander Abramov came across it in 2006, he set his sights on it.
The sale of the headland farm to the Russian billionaire (approved by the Overseas Investment Office in early 2010) - and what has happened since - bear some familiar hallmarks of the flawed processes that have seen swathes of green coastline marred by development.
There's the pleasure palace on the beach, allowed by the Whangarei District Council without public notification.
There's the walkway over the rocks to a pontoon in a bay that will be dredged to accommodate Abramov's launch. The Northland Regional Council okayed that, despite objections from the Department of Conservation.
Then there's the subdivision of the headland farm into five lots with sites for future houses, a couple with grandstand views over Helena Bay. Whangarei District Council approved this - again without public notification - despite its own consultant's concerns that the house sites would be visible from the sea and nearby bays, with potentially significant adverse effects.
Yet this is a project which may be good for the bay and the land, almost in spite of the rulebook. Though secrecy surrounds much of what is going on, those managing the scheme on Abramov's behalf are making good on commitments to enhance the property. Stock management on the beef breeding farm has been changed to reduce erosion. Thousands of natives have been planted and mature stands of bush fenced off.
Archaeological digs have pleased local Ngatiwai iwi and the Historic Places Trust. Local Maori have gained work as scaffolders, labourers, apprentices and on pest management and tree-planting projects. "Some will be temporary positions but that's better than no position at all - and people with limited skills are becoming more employable," says Ngatiwai resource consent manager Clive Stone.
Though DoC opposed the concrete path over the rocks, it supported Abramov's purchase because of undertakings which include bush restoration and planting, pest control, ponds for the threatened pateke (brown teal) with a public viewing area; a walkway to a pa and walking access to the coast.
Despite Abramov's best efforts to fly below the radar, attention is inevitable given New Zealanders' sense of entitlement to the coastline and the size of his dacha (summer home). The lodge under construction at Otara Bay, accessed by a private road, has been labelled one of the country's biggest homes but is also expected to be available to rent - to those for whom money doesn't matter. The main building is an airy U-shaped affair around a pool, with features including a spa and sauna, large dining room, reception lounge, gallery and kitchen. Accommodation is in three separate villas fanning out along the beach: one for the owner, one for his family and one for guests.
When, in March, the Herald published aerial photographs of the complex under construction, an outcry up and down the coast landed at the door of the Whangarei District Council. In approving the lodge 50m from the water's edge, council planners concluded the environmental impacts would be minor and could be minimised by landscaping and conditions on colour schemes, reflectivity, etc. The location and design ensured the complex would not be visible from nearby bays.
But the prominent location of house sites on two of the newly subdivided lots with views of the bay concerned a consultant landscape architect, Paul Quinlan, who argued their visibility from the sea and surrounding bays could have significant adverse effects.
Quinlan wanted a "no build" covenant put on any further subdivision but the council decided to leave any conditions until resource consent is sought for the future homes.
Far worse subdivisions, and environmental outcomes, have occurred up and down the coast. Environmental planners call it death by 1000 cuts: one subdivision creates pressure for a further carve-up (often because lot sizes are uneconomic for farming) and gradually an area of the coast loses its relatively "natural" appearance.
Preserving the natural character of the coast and protecting outstanding natural features and landscapes are matters of national importance under the Resource Management Act. But the act is permissive; it still allows subdivision and development where the effects are minor or can be mitigated.
That didn't stop a goldrush of coastal development last decade - prompting the Government to strengthen policy guidelines in the New Zealand Coastal Policy Statement, giving councils more teeth to safeguard the coastline without ruling out subdivision or development.
Two years on, few councils have beefed-up their planning rules (their district plans) to reflect the national policy guideline.
The Whangarei district plan allows subdivision down to 20ha "as of right" in the coastal environment but restricts houses to one per lot. The council has yet to complete the task of identifying its outstanding natural landscapes and features, which would raise the bar for subdivision in these areas. The exercise was scuttled after a farmer-led revolt.
Those who've seen Helena Bay might think it a shoo-in for enhanced status - after all, its scenery lured a billionaire from the other side of the world.
But Paul Dell, the council's "district living" manager, says defining an outstanding landscape is not simple. "You have to be careful. You have to go through a process and weigh things up. People use words like pristine - all these words have to be in context. People have proprietary rights on their property."
And when a large coastal farm is struggling to earn its upkeep and there's townie (and foreign) demand for a coastal lifestyle, rural planners may have their work cut out.
Dell says the council plans to fine-tune its rules around the coastal landscape but is waiting for the Northland Regional Council to revise Northland's regional policy statement - a document one step up the planning pecking order from the district plan.
The draft policy statement makes explicit mention of undeveloped headlands as special places where significant adverse effects should be avoided. But the document has yet to go out for consultation and, with appeals expected, could be some years away.
This, says Environmental Defence Society chairman Gary Taylor, highlights a weakness in current law - "the horrendous amount of time that it takes to change a plan, during which time you can get goldrushes of people trying to get in under the old provisions before things might tighten up."
Taylor says Whangarei District is typical of many rural councils with coastline in demand for subdivision and where farmer interests hold sway.
"The history of Whangarei District in the past, and even now, is that there's a big gulf between what their staff and expert consultants are telling them they need to do about landscape conservation and what they choose to do as councillors.
"The councillors themselves may not have a direct interest in a more permissive outcome but their constituents do. There are a number of councils like Whangarei District that baulk at performing their statutory duty to protect the coast and protect outstanding natural landscapes."
It's probably just as well, then, that the headland farm at Helena Bay has gone to a wealthy foreigner who seems fully committed to environmental enhancement.
Dell says the aerial image is misleading: viewed from the bay, the pool house and villas will be nowhere near as dominant as they appear. The council also believes the landscape impacts on the two prominent sites earmarked for future houses can be managed with conditions on colours, materials and so forth.
Taylor says sales of coastal land to wealthy foreigners can bring better environmental outcomes because they have the money to enhance the land and because of the OIO's powers to impose conditions.
Chris Seel, Abramov's New Zealand agent, has assisted buyers with several high-end property development projects. He says the subdivision was to allow for future ancillary accommodation to run the large farm or for Abramov's family. The land will remain in single ownership.
Seel says you can't blame farmers on marginally economic land for subdividing. "But a single wealthy individual is not driven by those same objectives, their objectives are far more in obtaining a pristine environment and maintaining it."
Seel is equivocal about what the future holds for the property, though the lodge was originally touted as a luxury accommodation venture. He says a confidentiality clause prevents him from revealing too much but the project is continuing to meet all obligations under its OIO approval.
With the coastal planning framework still open to interpretation, we'll have to put our faith in the ruble.