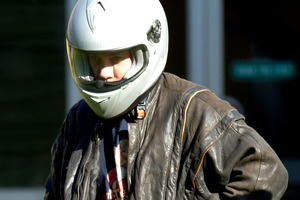 The owner of a tow truck company who allegedly took a car on a joyride after it was impounded for boy-racing has pleaded not guilty.
Michael Woods appeared in Manukau District Court yesterday and denied the charge of unlawful conversion of a motor vehicle.
Woods, who runs East City Towing under the name Mike Holliday, stood before the judge in a leather jacket and a printed black T-shirt.
The 48-year-old was flanked by two other men dressed in similar clothing.
As he left court, his mate passed him a silver motorcycle helmet with a dark visor which he put on to avoid his face being photographed. He is to reappear in July.
Woods was charged at the end of last month after police began an investigation into the company after the Herald published a complaint from a woman that her car was driven at high speeds without her permission after it had been towed.
The woman formally complained to the police after checking her Snitch GPS system.
Following a week-long police investigation into the allegations, Detective Inspector Mark Gutry confirmed police had charged Woods with unlawful conversion of a motor vehicle.
Mr Gutry described the charge as taking a car which is in your possession legally and using it for your own purposes.
Conversion of a vehicle or other conveyance can be punishable by up to seven years' imprisonment.
After Woods was charged, police agents removed about 20 cars from East City Towing's yard and took them to Southern Districts Towing, which has a contract with the police.
East City Towing has been removed from the police's on-call towing roster - which had allowed them to impound cars on their behalf - until further notice.
When the Herald phoned East City Towing yesterday, the receptionist declined to pass the call to Woods.