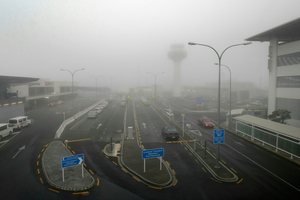 Fog at Auckland International Airport has disrupted domestic flights this morning. Photo / NZ Herald
Flights in and out of Auckland and Hamilton airports have been delayed or cancelled due to thick overnight fog.
A flight from Melbourne to Auckland was diverted to Christchurch, and a flight from Brisbane to Hamilton was diverted to Auckland, TVNZ has reported.
Some flights between the two cities have also been cancelled, as has a flight from Auckland to Rotorua this morning.
Information on flights can be found at Auckland International Airport's website and Hamilton International Airport's website.
- Herald Online staff