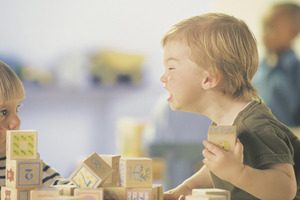 Restless, moody preschoolers are twice as likely to become problem gamblers in adulthood, according to a ground-breaking international study involving New Zealanders.
The study, published in the prestigious journal Psychological Science, based its findings on observations of more than 900 people who were followed from birth in the Dunedin Multidisciplinary Health and Development Study.
"People who were rated at age 3 as being more restless, inattentive, oppositional, and moody than other 3-year-old children were twice as likely to grow up to have problems with gambling as adults three decades later," said the group of researchers, which included Richie Poulton of Otago University.
Psychologist Wendy Slutske, of the University of Missouri, said that although the number of compulsive gamblers in the group was small, the findings were important given the "ever-increasing number of [gambling] temptations our world presents".
"It fits into a larger story about how self-control in early childhood is related to important life outcomes in adulthood. New programmes for boosting self-control - even Sesame Street's segments on the importance of saving money and waiting until later for goodies - might not only head off a painful future of compulsive gambling but also increase children's chances of academic success, financial security, and personal happiness when they grow up."
Problem Gambling Foundation psychologist Dr Phil Townshend said rather than apply the research to monitor those deemed most at risk, it underlined the importance of providing good environments in which children grew up. Those same people with personality disorders who became problem gamblers were likely to carry the cycle through to their children by giving them "difficult upbringings".
"It's about improving the quality of childcare - that's the thing to take home from this," Dr Townshend said.
Associate Professor Peter Adams, of the Auckland University Centre for Gambling Studies, said there was a risk the gambling industry would use the research to claim availability of gambling was "less of an issue than what happens under the bonnet of the person".
"I would argue that with any risk factors, the environment is a key factor as to whether it becomes problematic."
The study drew on 90-minute assessments of 1037 3-year-olds who were categorised as having one of five temperaments: under-controlled, inhibited, confident, reserved and well adjusted. Those categorised as having an under-controlled temperament were more restless, impulsive, and negative, and were less able to regulate their emotions.
At ages 21 and 36, some 939 of those same study participants answered questions about gambling behaviour. At 21, 86 per cent of the respondents had gambled, but only 13 per cent in a "disordered" way. By 32, only about 4 per cent still gambled at that level.
Among the compulsive gamblers, men were more numerous than women, as were those with low childhood intelligence and socio-economic status. But under-controlled temperament as a toddler remained a significant predictor of disordered gambling, even after allowing for gender, intelligence, and socio-economic status.