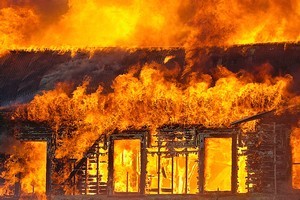 Desperate Cantabrians are turning to arson to claim insurance on their homes, the head of the Insurance Council of New Zealand says.
Fire Service figures reveal there were 100 deliberately-lit fires last month and more than 1200 arsons in Christchurch since the September 4, 2010 earthquake.
Chris Ryan, chief executive of the Insurance Council, told Fairfax Media insurance fraud was driving the increase in arson.
Mr Ryan said some homeowners who did not have adequate cover for earthquake damage were turning to deliberately torching their homes, however he was not aware of anyone being criminally charged.
"It's really only anecdotal - but insurers are very much aware there is a degree of fraud - not just in Canterbury - it happens everywhere."
Canterbury Criminal Investigation Branch Detective Sergeant Craig Farrant told Fairfax Media he did not know of any charges relating to insurance fraud in the city.
- Herald Online staff