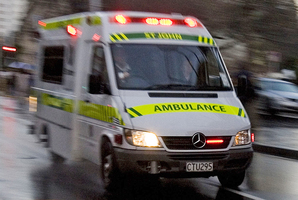 This dramatic image captures the aftermath of a high-speed police pursuit in South Auckland.
Inspector Willy Taylor said police gave chase after a motorist fled from a drink-drive checkpoint on Redoubt Rd just after 9pm on Friday.
It is believed the driver did a U-turn before the checkpoint and a police officer followed with sirens blaring.
She lost control of the squad car and it hit a tree on the corner of Alexia Place and Redoubt Rd. The officer was taken to hospital with minor injuries. The motorist fled the scene and was yet to be caught last night.
Alexia Place resident Vu Tran heard a lot of skidding and a series of loud bangs.
"I ran outside and the police lady was walking out of the car. She sat down on the road and some other neighbours went to help her and called an ambulance. The police car was pretty wrecked in the middle of the road. They kept the road closed for hours," he said.
It was lucky the police car had no passenger because the left side of the car was completely crumpled.
"If a passenger was in the car they could be dead. She was very lucky not to be more badly injured."