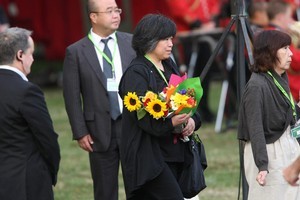 Christchurch residents are already taking up seats at North Hagley Park for this afternoon's major Civic Memorial Service to remember the 185 people who died in the February 22 earthquake a year ago.
Organisers are expecting tens of thousands of Cantabrians to turn out for the service, which will include the reading of the names of the 185 dead and a two minutes' silence starting at 12.51pm - the time the magnitude-6.3 quake struck last year.
One early arrival Keith Longden, who lives in a red-stickered home in Dallington, one of the worst-affected city suburbs, took up a seat as close to the main stage as possible.
Mr Longden wanted to pay his respects to those who died, as well as thank the rescuers who "did such an incredible job in such trying circumstances''.
His son Grant was working in the ANZ Building in Cathedral Square when the quake hit, and Mr Longden feels lucky his family escaped the worst of it.
"We feel very lucky, but a lot of people weren't. It's important that we show some solidarity with them.''
The retiree spends half his year in his hometown of Eastwood, Nottingham in England, and the rest of his time with his five grandchildren in Christchurch.
He was at the service today with a homemade sign, 'Friends across the world: Eastwood, Nottingham.'
Sheila Carney, 70, of Papanui, told APNZ she couldn't bear to come to the memorial last March, as it was "too soon. I wasn't ready''.
But now she has vowed to come every year, no matter how upsetting it was.
"It's the least you can do. No one wants to be doing this today, but it's healthy - it's part of the grieving process.''
She also hoped that February 22 would be a Canterbury public holiday in the future, adding: "Then it would be up for individuals to come and pay their respects if they wanted to.''
- APNZ