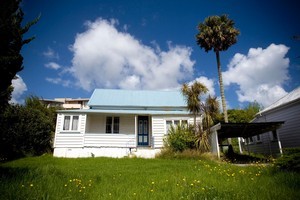 The day after a consultant planner sealed the fate of a 130-year-old cottage in Freemans Bay, he flew to Wellington at ratepayers' expense to discuss resource consent processes.
On December 6 last year, Consultant Brooke Dales joined Auckland Council's resource consent manager Heather Harris and senior resource consents project manager Graeme Mitchie to debrief government officials on an urgent consent process used for the Rugby World Cup.
The talks included possible changes to the Resource Management Act, including timeframes for processing complex consents.
A day earlier, Mr Dales recommended an application to demolish the cottage at 18 Paget St after replacing a council planner who favoured saving the cottage from the wrecker's ball.
Mr Dales yesterday said that as the planning consultant used by the council on applications for the Rugby World Cup Empowering Act he travelled to Wellington to give feedback.
The council paid Mr Dales' return airfare of about $600 and an unknown amount for his time.
Sally Hughes, chair of Save Our St Heliers, questioned Mr Dales' inclusion in the Wellington discussions.
"The ratepayers of St Heliers have not been served well by Mr Dales and the 90 people who were denied a voice in the Turua St case will not be happy to know that their rates were used to fly him to Wellington," she said.
Mr Dales, who has not spoken about the Paget St case until now, said he was comfortable with the advice and conclusions he reached.
"Not withstanding that, different opinions have been given and reported and that is the nature of planning. There are going to be differences of opinion," Mr Dales said.
A report from senior council managers who reviewed the case found the council followed the correct procedures for processing the application, but it was possible that a different conclusion could have been reached that would have been equally defensible.
The news of Mr Dales' trip to Wellington follows a column in the Ponsonby News by Waitemata Local Board chairman Shale Chambers on Paget St.
Mr Chambers criticised what he saw as the undermining of rules intended to protect homes in the Residential 1 heritage zone.
"The many-headed monster that was the resource consenting and planning department of the old Auckland City Council we hope had its last gasp and is now dead," wrote Mr Chambers.