Numerous paradise islands dot the coast - some public, some private, others havens for our wildlife. This week, the Herald looks at five and the efforts to preserve their habitats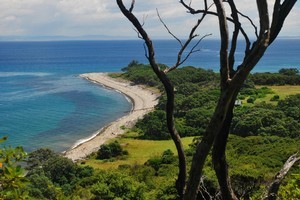 From the mainland, the classic volcanic profile of Little Barrier Island soars higher than any other point in the Hauraki Gulf. Its 772m summit is often wrapped in cloud. And that visual encounter is usually all that people experience of the protected nature reserve, a status which severely restricts visits to the gulf gem.
Permits are needed to visit Little Barrier - or Hauturu, Maori for "resting place of the winds" - for the simple reason that too many arrivals could ruin the primeval qualities that make the island one of New Zealand's special sanctuaries.
The island has a long Maori history, with traditions dating back centuries. Archaeological occupation clues include fortified pa sites, middens and plots once used as gardens.
The island's treasured environmental status rests on its history as a forest relatively untrampled by browsing animals and as a virtual ark for rare plants, birds and animals whose mainland habitat has long disappeared.
Little Barrier is a stunning illustration of what can happen when rats and cats are eradicated. Feral cats - a legacy of 19th century settlement - were wiped out in 1980. Kiore were gone 25 years later. An explosion in bird numbers - and bird song, which even a brief time on Little Barrier confirms - has naturally followed.
Black petrels are breeding once more in healthy numbers and the populations of endangered hihi or stitchbird counts are rising.
For bird spotters, the experience is rewarding: kaka swoop across treetops, haunting kokako calls fill damp valleys, and clear bellbird song is incessant. Sightings of plump kiwi are the rewards of torchlit night walks.
During the day, skinks dart about on the warm ground.
In an enclosure, tuatara continue their slow recovery. One of the pleasures of a brief island stopover is the chance to touch these ancient creatures. As many as 300,000 tuatara once called the island home. Rat attacks pushed the reptiles to the brink of extinction but thanks to a recovery plan, the living fossils are clawing their way back.
The absence of predators, and determined pest-free management, means evolutionary features such as gigantism have survived.
Venture out at night and you'll find weta the size of large mice. Wetapunga - the "god of bad looks" - made a splash in Britain's Daily Mail last month when a female was pictured munching on a carrot. But you won't find the super-sized weta having a midnight snack in the ranger's garden. The shy nocturnal creatures live in trees and creek beds, where herbivorous foods are within a stretch of their feelers.
If Little Barrier is our showcase island refuge then Burgess Island, 20km away to the north, ranks as a seabird hotspot. Burgess is the second largest island in the Mokohinau Group.
The "Mokes", 50km from the mainland, lie in a maritime paddock, where warm ocean currents reach the continental shelf and generate a rich food source for birds that spend most of their lives on the water and only return to land to breed.
New Zealand - surrounded by productive waters - has the world's most diverse seabird community. Five species nest only in the gulf. Burgess is one of the breeding sites, and the only island in the group where visits are allowed.
Seven species of shearwaters, petrels, diving petrels and storm petrels raise chicks on Burgess, hidden in a borrow or nestled under a thick carpet of ground cover.
It's a three-hour haul from Leigh but worth the effort to find a dedicated researcher with their arm down a burrow and carefully extracting a white-faced storm petrel.
From the water, the 50ha island looms dramatically above clear rolling swells.
A tender is needed to get ashore, then it's a stiff climb to a 130-year-old lighthouse, which guides ships leaving or entering the gulf.
Keepers and their families grazed sheep, cattle, pigs and goats last century, but pastures they established are slowly returning to native forest.
Crumbling remains of a crane that used to transfer stores to shore sit at the landing beach, with rusted tracks of an iron trolley system that carted goods uphill to the lighthouse families.
Burgess also has a rich Maori history. Iwi call it Pokohinu Island - "oil of the muttonbird" - and Ngati Wai from Great Barrier have the right to take grey-faced petrel (muttonbird) or oi chicks each year. Scientists and volunteers use a hut near the light as their base for work to discover more about the lives of seabirds.