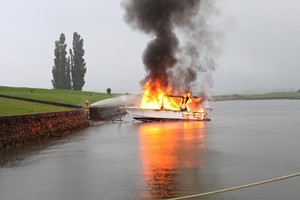 Katie Anderson was asleep at her mother's Whitianga home when she was awakened by a loud bang.
The freelance photographer looked out her window and saw smoke billowing out of a 10m boat and a group of men jumping for their lives at the bottom of a boat ramp.
"Basically we woke up to an explosion," she said.
"At first we thought the boat had come off the trailer but I looked again and saw the smoke.
"After I ran downstairs I looked out again and saw flames everywhere."
She said the men who were in the boat disconnected it from its trailer and drove their ute to the top of the boat ramp, where they all watched as their fishing trip went up in flames.
"They didn't say much ... they all looked pretty gutted.
"By the time the fire brigade got out here she was well in flames."
Miss Anderson, 22, said firefighters told her the boat had been recently refurbished and was being relaunched when the accident happened.
She said she heard the engine turning over a couple of times.
"They went to fire it and it didn't fire and they disengaged it andwhen they went again it just went boomfa.
"The flames were pretty big."
The boat's owner did not want to speak to the Herald.
Inspector Cornell Kluessien of the northern police communications centre said that the fire was not suspicious.
It appeared to have started because of a problem with the boat's ignition, which sparked off fuel in the vessel.
He said no one was injured but the fire gutted the boat, which was burned right to the waterline.
The Whitianga Harbourmaster said he had filed an incident report that said the cause of the explosion would be "pretty hard" to find because the boat had been gutted.