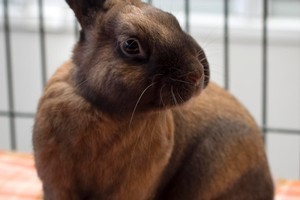 Toffeepop, as his name suggests, is simply irresistible.
He is an adorable adult Lop rabbit with a soft brown coat and charcoal coloured ears.
Attendant Justine Somerville says Toffeepop is a little shy when he meets new people but he warms up quickly.
He has endured a few hairy encounters, which have left him with some scarring on his left ear.
Toffeepop needs a loving home where he will be given lots of cuddles.
Ms Somerville says Toffeepop is a kid at heart, who just loves playing with his toys.
All SPCA rabbits are temperament tested, desexed, microchipped and vaccinated.
SPCA executive director Bob Kerridge's tip: "Cats can wander and become lost. Microchip and register your cat on the Companion Animal Register to ensure you can both be reunited."
TO HELP
To adopt Toffeepop or any of the other wonderful animals at the SPCA village in Mangere, contact the SPCA on (09) 256-7300. Toffeepop's SPCA Village ID number is 216395