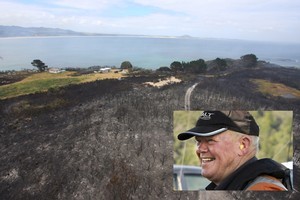 Friends and colleagues paid tribute to two men who died trying to rescue people stranded by the Karikari Peninsula bush fire.
Helicopter pilot John "Prickles" de Ridder and Department of Conservation ranger William Macrae died when their helicopter crashed into the sea on Wednesday night. They were conducting a reconnaissance flight over the fire in a Squirrel ZK-IMB helicopter about 10pm.
"The aircraft was helping to fight a fire and we understand at this point that the pilot had been requested by authorities to divert in order to extract people from the beach, away from approaching flames and out of harm's way," Salt Air chief executive Grant Harnish said.
Their bodies were found by commercial divers inside the helicopter wreckage under 7m of water about midday yesterday.
Far North fire volunteer support officer Mike Fleet paid tribute to Mr de Ridder.
He said he always had a "smile on his face and a story to tell" - and because he often wore a lifejacket when flying over water many hoped that could have helped him survive. Mr Fleet had hoped his friend would be found alive, waiting to be rescued.
DoC staff said Mr Macrae, 54, had worked for the department for more than 15 years in Kaitaia and knew the area well. Area manager John Maxwell said he was the top man for assessing rural fires and deciding what resources were needed to extinguish them.
- Additional reporting: APN