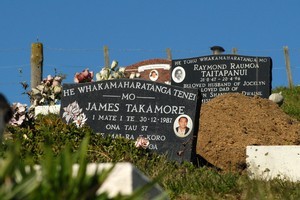 The widow of a man whose family stole his body and took it to his ancestral home is the rightful person to decide where he should be buried, the Court of Appeal says.
James Takamore was 55 when he died suddenly of an aneurism in 2007.
He was originally from Taneatua, in Bay of Plenty, but moved to Christchurch with partner Denise Clarke 20 years before his death. The couple had two children.
Mr Takamore had specified in his will, of which Ms Clarke was executor, that he wanted to be buried but did not say where.
Despite him returning to the North Island only twice in 20 years, his family decided he should be buried on the family marae, in accordance with Tuhoe custom.
However, Ms Clarke had intended him to be buried in Christchurch.
She agreed with his uncle that his body should lie in state at Christchurch's Te Whare Roimata Marae but he was then to be buried at the city's Ruru Lawn Cemetery.
But when Mr Takamore's mother, her partner and a friend arrived at the marae, they demanded he be taken to his home marae in Bay of Plenty for burial.
"Ms Clarke did not know then that such a demand accords with Maori custom and that the immediate family is supposed, in turn, to defend their entitlement," the Court of Appeal said in its ruling.
"Ms Clarke said that the demand soon degenerated into an argument, which lasted about an hour and a half, and at one point it became so fraught that her sister was manhandled from the room by Mr Donald Takamore (Mr Takamore's brother)."
The family went home for the night after being assured the body would not be moved until a resolution was reached. However, Ms Clarke was called the next morning by a colleague of Mr Takamore's who had gone to pay his respects and found his body being removed.
She called police before rushing to the marae with her children but found her partner's casket and body already gone.
"Ms Clarke sought and was granted an interim injunction to restrain the burial of Mr Takamore's body but, when the sealed injunction order reached the Opotiki Police Station in Bay of Plenty and two officers took it by car to Kutarere, they found the burial service was already underway and decided not to serve the injunction.
"There were then subsequent negotiations facilitated by the police for the return of the body but to no avail."
Mr Takamore's mother told the court she "decided to go and get him" as she was concerned Ms Clarke would remarry, the children would grow, marry and possibly move from Christchurch and "my son would be alone there".
The family believed it was Mr Takamore's wish that, if he was to die in Christchurch, he was to be taken back to the Bay of Plenty as he had "no land, no people and nothing down there" [in Christchurch].
However, a work colleague of Mr Takamore told the court Mr Takamore was "very blunt in his views that he would not return to the North Island, whatever the circumstances, and that his home was now in Christchurch".
The High Court ruled in 2009 that the Takamore family had taken the body unlawfully and that Ms Clarke was entitled to make the final decision on where he should be buried.
However, Mr Takamore's sister, Josephine Takamore, went to the Court of Appeal and argued that the burial of a Maori was governed by tikanga (customary practices), and that taking Mr Takamore's body was in accordance with Tuhoe burial custom.
The court disagreed, in a decision released today (Wed.), and ordered the matter back to the high court "to deal with the question of remedy".
Ms Clarke could not be contacted for comment.
- APNZ