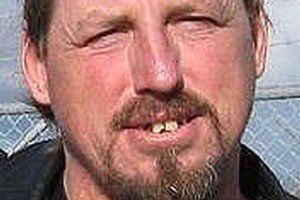 A former Sunday school teacher who admitted 16 serious sex offences against young girls has been told he faces a lengthy jail sentence.
Serial sex offender Shane Allan Harris, 39, is already serving a prison term for possessing images of child pornography and bestiality and has been described by a judge as a "high-risk pornography offender."
Now he faces a further stretch behind bars after his latest string of attacks on young girls.
At a Christchurch District Court hearing today, Harris was told that a preventive detention order was inappropriate.
Judge Michael Crosbie remanded him at the Kia Marama unit for sex offenders until he is sentenced later this year.
Harris was volunteering at a local church in Timaru when he indecently assaulted four girls in his care.
The court was told Harris helped teach sunday school classes at the church, organising activities and playing games with the victims.
A summary of facts states: "This gave the defendant access to several young girls who attended the sunday school - four of whom are victims in this matter."
Harris pleaded guilty to seven charges of indecent assault on girls aged under 12, two of having unlawful sexual connection with a girl under 12, four of doing an indecent act on girls under 12, and indecent assault, unlawful sexual connection, and rape of girls aged under 16.
He admitted touching or penetrating young girls' genitals with his fingers as he gave them piggyback rides.
The police outlined incidents in which Harris touched other girls, performed oral sex, and had sexual intercourse with one of them.
The victims are now aged between 12 and 20.
Harris said the most recent offences took place in Timaru from the 1990s to 2005 - but he has a history of offending that stretches back 20 years.
Last year, he was jailed for two years and four months after being caught with images of child pornography and bestiality.
Acting on tip-offs to the Department of Internal Affairs, police searched his home in Ashburton, where he had been working as a septic tank cleaner. They recovered hundreds of images of young girls and teenagers in swimsuits, leotards or naked.
Police also found two bestiality videos depicting young women conducting sex acts on animals, and two videos that Mr Harris had compiled himself of still shots of naked girls.
The judge described Mr Harris as a high-risk pornography offender.
In 2005 he was jailed for eight months for making objectionable publications available for gain or by advertisement.
He was banned from Waimate swimming pool in 2006 for alleged inappropriate behaviour.
In 2008, a home computer revealed film footage of junior Miss Caroline Bay competitions, and of young girls playing at a Timaru children's gymnastics club. In each case the footage focused on the groin areas of the participants.
Alan Bell, director of ECPAT Child ALERT, said: "These children represent some of the most vulnerable within our society. And they are not isolated cases.
"We have to make a concerted effort to protect children from the lifetime of harm abuse can cause. Every child should be afforded the best opportunities this country has to offer and every child deserves to thrive, belong and achieve."
- APNZ