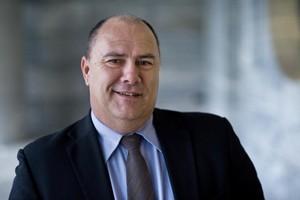 List MP Tau Henare is the biggest loser in National's male-dominated list this election - moving from 26 last election to 40.
There are two unknowns in winnable places - Jian Yang, Chinese, and Alfred Ngaro at 36 and 37 respectively and on National's current polling certain to enter Parliament.
Current ministers dominate the top of the list - Paula Bennett and Hekia Parata have both seen significant elevation. Ms Bennett moves from 41 to 14 and Ms Parata from 36 to 18.
Backbench MP Amy Adams - considered likely for a ministerial spot if National wins the election - has moved from 52 to 28.
Party President Peter Goodfellow said the list was a good mix of experience and new blood.
He said Mr Henare was satisfied with his placing, which was still a very "winnable" spot.
However, another List MP - Paul Quinn - is in more danger. He has slipped from 40 to 48 - meaning National has to secure at least 48 per cent of the vote to ensure he returns to Parliament.
Mr Goodfellow said Mr Yang and Mr Ngaro were both highly respected in the community.
National was seeking a new Chinese candidate to replace Pansy Wong.
Epsom candidate Paul Goldsmith is placed at 39. He is expected to campaign for the party vote rather than electorate vote in his seat to allow Act to win it.
Under a similar deal with United Future leader Peter Dunne in Ohariu, National's candidate Katrina Shanks was ranked at 38 - up from 46 last election.
The list is heavily male dominated - of the 75 on the list, only 24 are women. There are only two in the top ten and ten in the top 40.
Mr Goodfellow said the top of the list largely reflected the make up of Cabinet and a number of those elevated on the list were women.
Others rewarded included Auckland Central MP Nikki Kaye - who moved from 57 in 2008 to 33. Ms Kaye is in a marginal electorate and her main rival Labour's Jacinda Ardern received a high list placing with Labour at 13. Despite Melissa Lee's efforts in the Mt Albert byelection, she lifted from 37 to 34. Mr Goodfellow said she was considered to be doing a good job.
The party's North Shore candidate Maggie Barry was ranked at 58 and Mr Goodfellow said it was considered likely she would win her electorate "a very blue seat."
"It would be a big surprise if she couldn't do that."
The full 2011 list (2008 placing in brackets)
1 John Key (1)
2 Bill English (2)
3 Lockwood Smith (12)
4 Gerry Brownlee (3)
5 Tony Ryall (6)
6 Nick Smith (5)
7 Judith Collins (7)
8 Anne Tolley (10)
9 Chris Finlayson (14)
10 David Carter (9)
11 Murray McCully (11)
12 Tim Groser (15)
13 Steven Joyce (16)
14 Paula Bennett (41)
15 Phil Heatley (22)
16 Jonathan Coleman (29)
17 Kate Wilkinson (30)
18 Hekia Parata (36)
19 Maurice Williamson (8)
20 Nathan Guy (18)
21 Craig Foss (33)
22 Chris Tremain (31)
23 Jo Goodhew (39)
24 Lindsay Tisch (19)
25 Eric Roy (28)
26 Paul Hutchison (23)
27 Shane Ardern (24)
28 Amy Adams (52)
29 Peseta Sam Lotu-Iiga (35)
30 Simon Bridges (51)
31 Michael Woodhouse (49)
32 Chester Borrows (32)
33 Nikki Kaye (57)
34 Melissa Lee (37)
35 Kanwaljit Bakshi (38)
36 Jian Yang (-)
37 Alfred Ngaro (-)
38 Katrina Shanks (46)
39 Paul Goldsmith (-)
40 Tau Henare (26)
41 Jacqui Dean (40)
42 Nicky Wagner (43)
43 Chris Auchinvole (42)
44 Louise Upston (53)
45 Jonathan Young (66)
46 Jackie Blue (45)
47 Todd McClay (54)
48 Alan Peachey (34)
49 David Bennett (44)
50 Tim Macindoe (55)
51 Cam Calder (58)
52 John Hayes (50)
53 Colin King (47)
54 Aaron Gilmore (56)
55 Jami-Lee Ross (-)
56 Paul Quinn (48)
57 Paul Foster-Bell (-)
58 Maggie Barry (-)
59 Ian McKelvie (-)
60 Mark Mitchell (-)
61 Mike Sabin (-)
62 Scott Simpson (-)
63 Claudette Hauiti (-)
64 Joanne Hayes (-)
65 Leonie Hapeta (-)
66 Sam Collins (-)
67 Jonathan Fletcher (-)
68 Heather Tanner (-)
69 Denise Krum (-)
70 Carolyn O'Fallon (-)
71 Viv Gurrey (71)
72 Karen Rolleston (-)
73 Brett Hudson (-)
74 Linda Cooper (-)
75 Karl Varley (-)