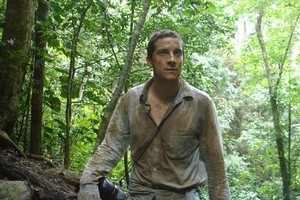 A 10-year-old Winton boy says he probably managed a 22km walk through Southland bush to safety because he watched the survival television series Man Vs. Wild "too much".
And now the star of the show, Bear Grylls, has praised the youngster on his Twitter account today. Grylls tweeted "Well done Baily! Attitude can indeed save your life."
Baily Read got separated from his adult pig-hunting companions near Lumsden about 11.30am on Sunday and turned up 21.8km away on a dairy farm about five hours later.
Baily's mother, Katrina Read, who had no idea of the drama until the boy called her from the farm, said her son was eating lunch in a clearing while her flatmate and his friend gutted a pig they had killed in a gully below.
When the boy could not see the men, he decided to try to walk down to them but got lost.
The Winton School pupil said he realised he was lost about five minutes after he started walking. His first thought was to get out of there before it got dark.
He said he had no idea where he was and he walked through bush the whole way.
He had food and warm clothing and the day was "hot as", so he filled his drink bottle at creeks as he walked.
He was a "wee bit scared" and relieved to reach the dairy farm.
Ms Read said shock and fear quickly turned to relief after she received Baily's tearful phone call in the late afternoon.
She could not reach the men, who were out of cellphone range for several hours, but finally reached her flatmate, who was "really relieved" the boy was safe.
Baily was a fit, "outdoors kid" who did athletics and was a good sprinter, but if he ever got lost again she hoped he would stay put, she said.
At home after school yesterday, Baily said it was only his second time pig-hunting, but the experience had not put him off.
Senior Sergeant Dave Raynes, of Invercargill, said a search and rescue operation was launched, and a helicopter was about to take off when the call came in just before 5pm that the boy was safe.