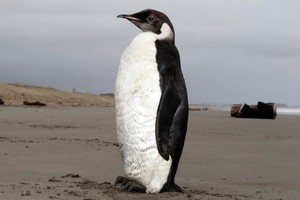 The polar blast made Wellington life easier, but it's wonderful to get back to the real cold.
Slowly but surely, the great ship inched towards the shore. Wild waves crashed against the jagged rocks, rearing like teeth in some inchoate jaw about to close around the approaching hull. A knot too fast, a turn too far and they were toast; fate's flotsam flung into the foamy brine with no hope of redemption or rescue.
On the bridge, the air was fraught. Condensation trickled down the spume-flecked windows as a clamour of messages filled the steel chamber. "Hard astern all." "Three fathoms, cap'un!" "Hold fast, Ms Spriggins." "Port two degrees." As the vessel crept forward, grim-faced men peered intently into flickering screens, totally preoccupied by the images before them.
None of the crew wanted to miss the final minutes of the All Blacks-Springboks game, you see, and, happily, a computer was handling all of the ship's vital functions so they weren't distracted.
"I hear we're supposed to abstain for the All Blacks," grumbled the First Mate.
"As long as you're on board, that won't be hard," snarled the Captain, wincing as the Springboks plodded ponderously, like hippos in jerseys, towards the All Black line.
"Prepare to disembark," shrilled the electronic voice. "And no hanky-panky with the natives, you lot," it continued, having clearly been programmed by Telecom.
"You wouldn't catch me bonking a bull seal," sniffed Ms Spriggins, "even if I was a Wallabies supporter."
"I thought you had to be a bull seal to be a Wallabies supporter," guffawed the First Mate, imagining how it would be if Ms Spriggins decided to come off the bench, so to speak, for a spot of rucking.
Meanwhile, below them, the Captain was farewelling his silent passenger.
"Goodbye," said the Captain, extending a gloved hand. It was an awkward grip, leather on feather, but the respect was palpable.
Then, in a churn of foam, the ship backed away as its passenger slipped into the sea and a profound silence fell upon the land.
Well, it would have been profound, except for the cheers of a big crowd gathered to greet the passenger, who was, propitiously, one of their own. As he waded towards them, a majestic figure stepped forward.
"You were just going out for half an hour," said the figure, "to get some fish. Where have you been?"
"Oh, mate," replied Happy Feet (for he, indeed, it was), "you won't believe what's happened!"
"Mate!" roared the Emperor Emperor (for he, indeed, the figure was), "who are you calling 'mate', you lippy little snow rag!"
Happy Feet's beak drooped. "Sorry," he whispered, "but that's what they call each other where I've been. Everyone's mate, mate. It's a mark of respect."
"Then they must be barbarians. Beyond salvation," snorted the Emperor. "You'll be telling me they eat penguins next."
"No! They don't," said Happy Feet. "But they do eat chickens. They must've scoffed millions of them while they were looking after me. Stuck me in the fridge and them in the frier. Freaky! I couldn't work out why they were being so nice to me and scoffing everything else."
"What about the eggs?" yelled a puzzled penguin.
"Yeah, them too," said Happy Feet.
"You mean the men don't sit on them for months, huddled together in the vilest of climes, until they're finally hatched," gasped the Emperor.
"No."
"Then they clearly haven't evolved properly." said the Emperor. "Not like us. We take care of our own."
"Well, they don't," replied Happy Feet. "Not all the time, anyway. But they definitely treated me ..." He paused, searching for the right words.
"... like an Emperor, actually. Even when the weather was lousy."
"How bad was it?" murmured No Nooky of the North, a shy little Emperorette Penguin who'd always fancied Happy Feet and was bitterly disappointed to discover there'd be no how's your feather, at least until the World Cup was finished.
"Very" said Happy Feet. "Dia-b****y-bolical, actually. They've got things up there you wouldn't believe. Like 'warm' and 'hot' and yukky yellow snow. Don't know how they eat it. And there's this great big bright thing in their sky that never stops shining. It's awful!"
"Was it always like that?" asked No Nooky.
"Pretty much," nodded Happy Feet. "Except for the last few days. They were great. Colder than a walrus tusk. It was, by journalistic consensus, a polar blast - they do a good line in cliches, too - or an icy polar blast, when things got really good. If I knew what a Smartphone was, I'd have sent you all a txt and told you to come up. Honestly, I didn't want to come home."
No Nooky gasped.
"But I'm glad I did," smiled Happy Feet. "Especially now Telecom's changed its mind. Your igloo or mine, sweetheart?"
Even though she didn't know what an igloo was, No Nooky was off in a flash.
Later, after a long arctic night of love, Happy Feet lay beside her, casually smoking a haddock.
"I wish you'd been there, baby," he purred. "It was oarsome. They're a weird bunch, but they sure were kind to me."