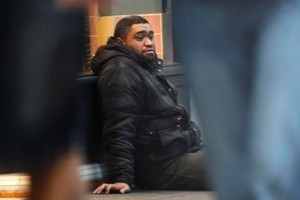 Auckland is cleaning up its streets for the Rugby World Cup. Inorganic rubbish collections have been suspended during the tournament to avoid the sight of old couches and refrigerators abandoned on the city's grass berms.
Graffiti teams have been using cherry pickers to clean years of tagging from buildings, such as the old Parnell train depot.
And homeless people, too, are regarded by the council as "antisocial" and, it seems, untidy.
The council's most senior Rugby World Cup managers circulated a business owner's inquiry about what they would do about "beggars" on the streets, which he said would not be a good look.
The answer, it seems, is to get rid of them.
After queries from this newspaper, the council backed away from the "language" it used in internal emails about "intimidation" and "homeless hotspots".
A month out from the Cup's opening, First Security's City Watch team has been paid $15,000 to deal with homeless people during the tournament. And the council has booked 50 beds at Lifewise's night shelter for those who find themselves without accommodation during the Cup.
In 1999, the old Auckland City Council was criticised for moving homeless people from Auckland Domain for the Apec summit. This time, Green MP Gareth Hughes has been told the security company will accompany police and "sweep" the homeless from Queen St twice a day in the lead-up to the Rugby World Cup.
Internal emails released to the Herald on Sunday under the Local Government Information and Meetings Act reveal plans to eliminate "homeless hotspots" along the Eden Park fan trail, using trespass orders to manage people sleeping in doorways. The City Watch bylaw enforcement programme is being extended to deal with issues such as signage and alcohol.
Cup project officer Kristie Grant had emailed colleagues in March, saying: "This project provides a response to antisocial behaviour during RWC 2011. It relates particularly to homeless people living within the Auckland City Council boundaries."
The three-tiered plan included:
City Watch security officers enforcing "begging" bylaws, and using trespass orders to move rough-sleepers out of doorways;
Eliminating homeless hotspots in parts of the central city and along the walk up to Eden Park, "so that the public are not intimidated";
Providing emergency accommodation in night shelters to get homeless people off the streets.
Grant spelled out the details in an email responding to the council's Rugby World Cup communications manager Simon Roche, who had warned: "It appears the request [for information] has come from an MP or someone on the parliamentary staff so we will need to be careful with what we go back with."
Auckland Council's central community safety team leader, Betty MacLaren, said there was no sinister plan to remove homeless people. But anyone breaking a bylaw, such as begging or drinking in public, would be dealt with in a business-as-usual manner.
The emails did not reflect the council's intentions accurately.
"Maybe the language she's used isn't the best and I wouldn't have used it but there's nothing sinister in that," said MacLaren. "The City Watch patrol is bylaw enforcement and it was put into the Homeless Action Plan which was an unfortunate administration thing that occurred but we live with that."
After walking the Eden Park fan trail, "there was no remedial action that needed to occur".
The plan was to present Auckland in the best light possible and people had to break the law or council bylaws for council or police to be involved. A common misconception was all beggars were homeless - MacLaren said that was not so.
Green MP Gareth Hughes said the documents revealed that council workers were focusing on Rugby World Cup "hotspots", not homeless hotspots. "This again leaves the council open to criticism that this is about Auckland's image, not dealing with the actual realities of the homeless problem.
"The fear is there will be a temporary crackdown during the Rugby World Cup which is more about image than dealing with the problem."
But Auckland Council insists the clean-out of homeless people is part of a bigger campaign to clean the streets during the Cup.
Community development and partnerships manager Kevin Marriott said the council had spent three years planning how it would target particular streets and buildings, to "make sure they're clean for the Rugby World Cup".
One example was teaming up with KiwiRail to target rail bridges, a hotspot for tagging.
But, he said, the council was simply continuing programmes that had been in place for several years. "It's important to people to have a city that's clean and free of graffiti."
Council infrastructure and environmental services manager John Dragicevich said this year's inorganic rubbish collections would not operate between September 4 and November 6, "to keep our streets clean and tidy during Rugby World Cup 2011".
Auckland up
Sprucing up the city has already paid off for Auckland.
New Zealand's biggest city is now No13 on international affairs magazine Monocle's latest quality-of-life survey of international cities - up from 20, where it sat for the last two years.
This put the City of Sails ahead of Barcelona and just behind Paris.
Auckland Mayor Len Brown was chuffed at the placing but said it was just a start. "It's brilliant," he said. "Obviously my vision is for Auckland to be the world's most liveable city."
He said there had been a few step changes in Auckland's urban form - the opening of the new $120 million Wynyard Quarter was one such example.
Monocle's Auckland correspondent, Simon Farrell-Green, said the formation of Auckland's Super City and urban improvements like North Wharf, the Wynyard Quarter and Rhubarb Lane rated highly with judges.
Another factor was "the sense that the city is sprucing itself up for the Rugby World Cup".
Helsinki took out the top spot, with the judges impressed by the Finnish city's low crime and unemployment rates.