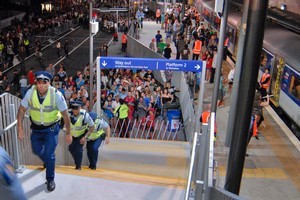 Buses will replace trains throughout Auckland's railway network again this weekend to allow a final construction and maintenance push before the Rugby World Cup.
Trains will stop running from 8 o'clock tonight and Auckland Transport will provide buses along all rail routes until Monday morning.
These will include special services from Britomart and Papakura to Penrose for tomorrow night's rugby league match at Mt Smart Stadium between the Vodafone Warriors and the Newcastle Knights.
Although KiwiRail has completed most construction work needed for smooth operations through the rugby tournament, including new signals, an important task this weekend will be activating crossover equipment between tracks at Morningside Station.
Other work will include installing electrification masts ahead of a Cup-related moratorium starting on Monday against rail and road construction work, and sprucing up tracks for the rugby crowds, including weed control and graffiti removal.
The crossover will allow trains carrying rugby fans home from Cup matches to western destinations to leave from both Morningside platforms, before switching back to tracks on the left-hand side of the railway line.
That device has operated at the larger Kingsland Station for several months, and will allow up to 15,000 fans to be sent back to Britomart or southern destinations within 70 minutes of the final whistle at World Cup matches.
Although a track crossover was not originally planned for Morningside, it became a late addition after Auckland Transport realised it had underestimated rugby crowds likely to use that station.
Its initial estimate of 1500 people using Morningside for World Cup matches was grossly exceeded by 3000 fans for last weekend's Bledisloe Cup test game between the All Blacks and the Wallabies.
The need for the crossover was demonstrated when a train broke down after the match, blocking the only available track out of the station, although Auckland Transport says rail operator Veolia performed admirably in managing to clear the track within 10 minutes.
Another development completed in time for the rugby tournament is Auckland Transport's $1.2 million upgrade of the disused Strand railway station with back-up platforms in case of an emergency at Britomart.
A special Silver Fern train will arrive there from the Waikato this morning carrying members of a working party investigating the resurrection of a daily commuter rail service between Hamilton and Auckland.
Because Britomart is reaching capacity at peak travel times, the working party is considering using the Strand station as the termination point for an early-morning service, and asking Auckland Transport to provide a bus connection from there.
Britomart could still be used for an off-peak service. The Waikato train will also call there as well as potential intermediate stations including Ngaruawahia, Huntly, Te Kauwhata and Tuakau.
The working party is expected to make final recommendations to its constituent councils next month.