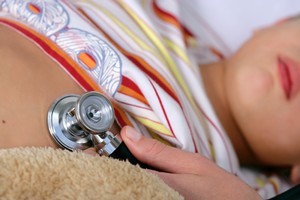 A toddler was last night in a critical condition with a strain of meningococcal disease.
The 1-year-old boy was rushed to Whangarei Hospital by his parents late on Monday night before he was taken to Starship hospital by helicopter early yesterday morning.
"He was very, very ill by the time he got to hospital ... and he is still in a very critical condition," said the Northland District Health Board medical officer of health.
Dr Clair Mills said the boy's diagnosis was isolated despite it being the latest in a number of confirmed cases across the country. In the past 10 days the meningococcal disease has claimed two lives - a young Manawatu girl who died in Rotorua Hospital and Fulton Hogan chief executive Bill Perry, who died in Christchurch Hospital.
Following Mr Perry's death three people were taken to hospital with the type-C strain of the disease.
Dr Mills said they were still waiting for test results to determine what strain the child had contracted.
The Northland DHB's public health unit was working to identify the people who the boy had been in close contact with before he became ill.
Dr Mills urged anyone who was concerned that they or their child had the disease to contact their doctor as it progresses "extremely quickly".
Diana Lennon, professor of community paediatrics at Auckland University, said last night that although the epidemic of the New Zealand B strain of meningococcal disease had ended in 2006, the country still had a high rate compared with other developed nations.
Professor Lennon said the annual meningococcal disease rate in developed countries was typically around 1 case per 100,000 population.
New Zealand's rate was 2.4 per 100,000 for all strains last year down from 17.4 at the height of the epidemic in 2001, but still significantly higher than the 1.5 before the epidemic began in 1991.
Last year there were 96 notified cases including six deaths. At least a quarter of the cases were the epidemic strain.
The highest rates of the disease are in young Maori and Pacific children and in poor areas.
Mass vaccination was offered from 2004 to all aged six months to 20 years. The programme was later reduced to high-risk infants and ended in 2008. Professor Lennon said the epidemic was considered to have been stopped by the vaccine, but it had not been possible to prove this.
Anyone who is concerned should contact their doctor or call Healthline on 0800 611 116.