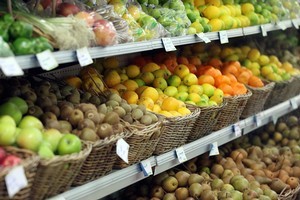 Slicing goods and services tax off "healthier" foods led supermarket shoppers to buy 11 per cent more of those items in a university-led trial.
Top of the list were fruit and vegetables, at two-thirds of the increase.
The large trial of shoppers by Auckland University was done before GST was increased to 15 per cent, when it was 12.5 per cent.
No one knows if these suddenly "healthier" shoppers ate better as a result - they bought just as much of everything else - but the trial produced excitement that at last an intervention aimed at improving poor nutrition might work.
The average household spent $178 a week on food in 2009/10, including $20 on fruit and veg. At 12.5 per cent, their GST component was $2.22.
The trial helped prompt the Labour Party to adopt, as part of a broader tax policy, the abolition of GST on fresh fruit and vegetables.
Some commentators see the move as a good attempt to rectify poor nutrition - shortage of food, excess of bad food and mineral and vitamin deficiencies - afflicting some children.
When Labour's present deputy leader Annette King was Health Minister, she repeatedly refused to subsidise fruit and vegetables or tax fatty foods. Too complicated, she said.
Now Labour wants to abolish GST on fresh fruit and veg to support struggling families and encourage healthy food choices.
National opposes the idea. Health Minister Tony Ryall said: "This Government is not in favour of fat taxes - the cost of living is high enough. [The increase in] GST has been compensated for through personal tax cuts so we're not going to move on and take GST off food."
Wellington health economist Des O'Dea said removing GST from fruit and veg would "spoil the simplicity of our GST system for not very large returns to people on low incomes".
He proposed a smart card targeted at low-income families subsidising healthy foods at $5 per week for each child. The idea hasn't been picked up.
Labour's policy has support in the health sector, and was floated in the Medical Association's journal 11 years ago by Professor Boyd Swinburn, then head of the Heart Foundation.
Now at Deakin University in Australia - where most basic foods are GST-free - Professor Swinburn said there was strong evidence to support Labour's proposal. "It's removing a universal tax creating a major barrier to healthy eating... I would have thought it a very smart approach."
Proposed fixes
* Remove GST from fresh fruit and vegetables
* Taxes to discourage consumption of sugar, saturated fat
* Smart card to subsidise healthy foods for poor families
* Expansion of healthy-cooking classes for adults and kids

What you can do
Sponsor a hungry child for 50c a day.
(to help provide the basics they're missing out on.)
kidscan.org.nz
Donate to Salvation Army food banks.
salvationarmy.org.nz
Donate to Auckland City Mission winter appeal.
(you can text help to 305 to instantly donate $3.)
aucklandcitymission.org.nz
Use your business or community group to feed hungry kids in your local school or community.