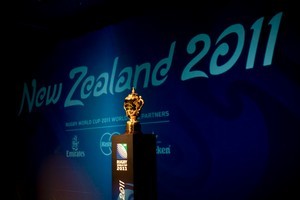 More Rugby World Cup tickets, including cheap seats to some All Blacks matches, have been made available to the public after the rugby boards, sponsors and travel agents didn't want them.
Bookings to the tournament are still possible for all matches except the final, New Zealand-France game and France-Canada game; a small number of tickets for the second semifinal and the Samoa-South Africa games are still available.
Organisers said they would not give an update on ticket sales for another two weeks. But the Herald surveyed available bookings to find that ticket categories were being freed up.
The tournament's general manager of marketing and communications, Shane Harmon, said the ticket release was the result of moves to finalise the number of tickets stakeholders needed.
"As is standard for any major event, a very limited number of tickets for certain matches or categories may become available periodically prior to the tournament," Mr Harmon said.
"This is a result of tickets being released after the finalisation of venue overlay and requirements of the Commercial Programme, IRB, unions and other stakeholders."
Twelve pool matches have more seating areas free to be booked now than they did three weeks ago when they were put on sale after a long hiatus.
In particular, seating areas in Wellington, Nelson and Dunedin have become available.
Only four teams - out of 20 - have more ticket categories sold out now than they did three weeks ago: France, Georgia, Japan and Scotland.
There are just over 150 total seating areas at the World Cup, of which 36 had no availabilities yesterday.
On July 5, 43 were exhausted.
Category B seats have been made available for the match between the All Blacks and Tonga.
In Wellington, a limited number of Category C and D tickets to the New Zealand-Canada game have been released.
France, Samoa and the All Blacks are the top three teams for seating areas sold out, at 56 per cent, 50 per cent and 47 per cent, respectively.
Romania and Namibia are yet to fill any seating area in all their pool matches - though the former country appeared to have sold out its cheap seats against England three weeks ago.
By venue, Whangarei has overtaken Eden Park and Hamilton as the stadium with the least ticket categories left, with two-thirds of its seating areas now exhausted.
Organisers said soon after the tickets went on sale that some tickets were bought by the same person under several accounts, breaching terms and conditions.
The Herald has also found that hundreds of tickets are being sold by scalpers through online auction sites outside New Zealand.
IRISH PUT OFF BY HIGH PRICES
Fewer than 500 Irish fans have bought official tours to the Rugby World Cup - with price-gouging cited as a reason the tournament has put them off.
The sales are less than a quarter of tours to Australia in 2003, and just 3 per cent of the 2007 World Cup in France.
The Irish Times reported that a tough economy and price-gouging in New Zealand had put off travellers.
Tour guides predicted fewer than 1000 Irish fans would make the trip from Dublin in September and October.
"There was a much better value for hotels in Australia," Killester Travel managing director Paddy Baird told the newspaper.
Previous reports in the Irish Times include an English tourist being quoted $1600 a night at a bed-and-breakfast in Auckland for a minimum 10-night stay during the tournament.
The newspaper has also noted the Hilton Hotel in Auckland charging $1700 a night under the same conditions.
Tournament organisers expect almost 20,000 World Cup visitors from Britain and Ireland.
PICK YOUR SEATS
Still left
* All semifinals, quarter-finals and the bronze final.
* All Blacks matches except New Zealand-France.
Newly available
* Category B at New Zealand-Tonga (Eden Park).
* Category C at New Zealand-Japan (Hamilton).
* Category C and D at New Zealand-Canada (Wellington).
* Category D at South Africa-Wales (Wellington).