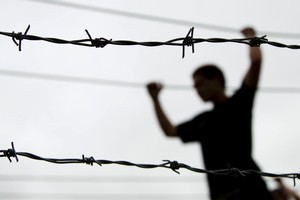 Only two of 17 youth offenders sent to controversial boot camps have not reoffended.
Social Development Minister Paula Bennett has today released a progress report on Fresh Start Youth Justice reforms.
Fresh Start was introduced last October and aimed to provide better, longer-term interventions for serious young offenders on a clear path to adult prison and a life of crime.
One intervention was the Military Activity Camps (MAC), commonly known as boot camps.
Two bootcamp programmes have run; in 2009 and 2010, and 17 youths were on them in total.
Figures provided to NZPA stated that of the 17, two had not reoffended while four were in jail.
Eight of the 15 who had reoffended did so less frequently than before, and nine committed less serious offences than before.
"MACs are the last ditch attempt, where we pull out all the stops to turn these kids around and stop them heading to adult prison," Ms Bennett said.
Ms Bennett said it was too early to report meaningfully on outcomes from the programmes and the second MAC was disrupted due to the Christchurch earthquake.
"Fresh Start orders can be for as long as 18 months with all the follow up interventions, so it's unfair to judge these young people too soon.
"This Government is determined to keep trying to break entrenched offending."
A further 20 young people have been ordered by Youth Court judges to start MAC in this financial year and data was not yet available on them.
Ms Bennett said about 1150 young people have been provided with one or more of the new Fresh Start programmes or new orders.
More than 150 young people received a new extended order under Fresh Start.
"It's clear the new orders are being used and more than half of the most serious young offenders have been given the new extended orders," Ms Bennett said.
"We knew it wouldn't be easy to change their lives and we expected successes as well as failures, but Fresh Start is certainly proving to be a circuit breaker."
The reforms allowed more time to work on the underlying causes of offending, she said.
"These orders let us hold young offenders to account, keep a really close eye on them and provide intensive interventions, all within their local community."
Under Fresh Start, Youth Court judges gained powers to order mentoring programmes, alcohol and drug rehabilitation, parenting education and longer sentences for the most serious young offenders.
More community-based programmes are being used, like supported bail and supervision with activity.
"Keeping young people connected to family and community while addressing the underlying causes of offending, provides the best chance of rehabilitation.
"We're also doing more for at-risk youth through Break-Away School Holiday packages, the Prime Minister's Youth Programme and Police programmes."
- Maggie Tait of NZPA