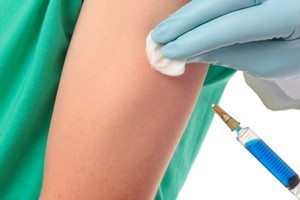 Sixty-four people have now been diagnosed with measles in Auckland's largest outbreak of the disease this year and that number may rise, authorities say.
The Auckland Regional Public Health Service (ARPHS) has confirmed eight people are in quarantine, as well as anyone not immunised who has come into contact with measles at Titirangi Private Kindergarten, Avondale College, Whakaaranga School and Auckland Academy of Dance.
Most cases have occurred in west Auckland with some spread to central Auckland, North Shore, and Manukau, and five cases have needed hospital treatment.
Almost all the 64 cases were in unimmunised people, said Dr Richard Hoskins, medical officer of health.
Several cases have unclear immunisation records, partial immunisation, or were immunised for the first time several days after exposure to an infectious case.
ARPHS records show there may be two people who got measles despite having the correct number of immunisations for their age.
Suspect cases were still being reported and ARPHS was urging vigilance.
ARPHS had traced more than 400 people who have come into contact with someone with measles during this outbreak. Most of the new cases were from transmission of the virus in schools and within households.
"We are continuing to work with schools and early childhood centres to quarantine susceptible contacts at home in case they develop measles," Dr Hoskins said.
It was important to stress it was a serious and highly infectious disease that made people very sick.
"The only way to stop you catching measles is getting immunised. The vaccination is funded for children, young people and unimmunised adults," he said.
Most of the cases were linked to a case at Oratia Primary School, on the western outskirts of metropolitan Auckland, which started when a non-immunised pupil developed the disease after returning from England via Singapore, said ARPHS.
Another was linked to a Thai Airways flight, TG491, which landed in Auckland on June 19 with a passenger suffering from the early stages of the infection.
ARPHS advised that common symptoms of measles included a runny nose, cough, sore eyes and fever, followed by a raised red rash that starts on the face and moves to cover the rest of the body.
Anyone displaying symptoms of measles should immediately telephone their doctor for advice, or Healthline on 0800 611 116.
It is important to call first because measles was highly infectious and people with it could infect others in a waiting room, Dr Hoskins said.
"Prompt identification can help limit the spread of measles to others, particularly vulnerable groups within the community."
- NZPA