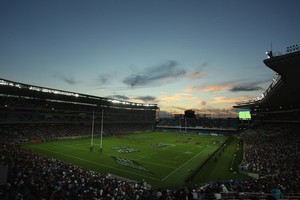 Eden Park is to be a no-fly zone for the Rugby World Cup as authorities try to prevent a repeat of the "flour bombing" of the 1981 All Black-Springbok game by Marx Jones.
The police have organised the zone for public safety but organisers also want to stop opportunistic "ambush" advertising above the venue.
The Major Events Management Act forbids aircraft carrying advertising within sight of the "clean zone" around the grounds.
The act bans such ambush advertising "on or by means of an aircraft".
Rugby World Cup general manager Ross Young said organisers had not sought any temporary no-fly zones, but anyone who tried to ambush the market from the air would be prosecuted.
"If somebody flies a banner with a competing brand across a stadium five or six times it's a clear ambush. We have the ability to go through enforcement proceedings."
The ambusher would face fines of up to $150,000 and RWC had a corporate responsibility to follow through with prosecutions, Mr Young said.
RWC was working with Civil Aviation through the Ministry of Economic Development to minimise any potential risks, he said.
If anybody flagged their flight path as being above a ground, rugby organisers would want to know what their intentions were.
- NZPA