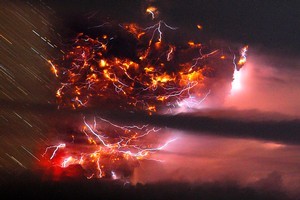 Experts say there is a chance the volcanic ash circling the globe could visit New Zealand for a third time.
The ash from a Chilean volcano will hover over the whole of the country from this evening and is likely to remain for a couple of days.
It's the second time in a week the cloud has blighted our skies, causing delays and cancellations around Australia and New Zealand.
Civil Aviation Authority spokesman Peter Lechner says there is a chance the ash cloud will be back.
"It is dispersing a little laterally but that's not to say it will continue doing that," he told Newstalk ZB. "There is an outside chance it could orbit the earth and come back an visit us again."
Flights around Australia are slowly resuming but Qantas flights between Australia and New Zealand are cancelled until further notice.
Jetstar's services around New Zealand and across the Tasman have also been suspended for the rest of the day.
Air New Zealand remains the only major carrier in the air.
It says it can fly lower than the ash cloud, which is currently hanging around the north of New Zealand at 24,000 feet.
The airline says it will provide updates if the situation changes.
All airlines across the Tasman will be putting on extra flights to clear the massive passenger backlog.
Australia's Transport Minister Anthony Albanese says it hasn't been good for the aviation industry or the Australian economy.
He predicts it will be a number of days before the backlog is cleared.
Qantas spokeswoman Olivia Wirth says the latest volcanic ash disruptions have come at a huge cost, but it's safety first.
She says there's no chance costs of the disruption will be added to fare prices in future.
"This is the everyday running of an aviation industry, it's part of the airline business," she says. "We've seen volcanic eruptions have a massive impact on the business, not only in Australia but last year with the Icelandic volcano, it does come at a cost but it's safety first."
- Newstalk ZB